WASHINGTON ― Traditionally, the chairman of the Democratic National Committee is not one of the most important positions in American politics. Presidents, House speakers, Senate leaders, Cabinet officials and governors typically matter much more ― they can actually implement public policy, while the DNC can only manage internal party affairs.
But Democrats are running out of important jobs. After hemorrhaging state legislature seats and governorships for a decade and losing control of both the House and the Senate, they have also lost the presidency. From the school board to the White House, power in America is generally a Republican thing.
And so the chairmanship of the Democratic Party is now as coveted in Democratic political circles as Prozac. Rep. Keith Ellison (D-Minn.) got in the ring early, racking up endorsements from progressive leaders including Sens. Bernie Sanders (I-Vt.) and Elizabeth Warren (D-Mass.) and Clintonite centrist Sens. Chuck Schumer (D-N.Y.) and Harry Reid (D-Nev.), alongside a host of major labor unions that hold sway in Democratic affairs.
But after a month of momentum, he was challenged by Labor Secretary Thomas Perez, an ally of President Barack Obama with a solid record at the Department of Justice Civil Rights Division and the Labor Department. While a handful of other hopefuls have joined the fray, the contest is generally viewed as a two-man race between candidates with strong progressive resumes.
Ellison made his case in a new interview with The Huffington Post. (Watch the whole thing in the video embedded above.) His diagnosis of the Democratic Party's current affliction is simple. He thinks the "trust relationship" with working people has deteriorated too far, and that the party needs to forcefully reassert itself with that community.
"If we believe the Democratic Party is the party for working families, then we gotta be all about some working families," Ellison told HuffPost. "Respect for all, opportunity for all ― that's the Democratic Party."
That strategy includes reaching out to Trump voters. "There's a bunch of Obama-Obama-Trumps out there and I think we can get them back if we go to them and sit with them and listen to them in the VFW hall and in the union hall," Ellison said, noting engagement with sometime-Republican voters has "worked for me in my own district."
There isn't much ideological daylight between Ellison and Perez. On DNC issues, the two have so far only differed from each other on whether the party should accept donations from lobbyists ― Ellison is opposed to lobbyist contributions, and Perez is not. In interviews with HuffPost, both have sworn off negative campaigning against each other. "I don't want anybody supporting me to be downing Tom," Ellison said, reflecting Perez's insistence that the DNC race "is a conversation within the family."
Perez pitches his candidacy on his experience running the Labor Department, which became a relevant force in economic policymaking during his tenure for the first time in decades. Ellison casts himself as a born organizer who can motivate voters at the local level in an era when Democrats need it most. He credits his local turnout operation with forcing former Sen. Norm Coleman (R-Minn.) and Republican Gov. Tim Pawlenty into lobbying careers.
"There are no statewide Republicans in Minnesota, not one ― and guess when there stopped being any: 10 years ago, that's when I got to be in office, because we prioritized voter turnout and we dramatically increased turnout," he said.
Ellison has in fact elevated turnout, revamping the influence of one of the safest Democratic House seats in the country. The number of votes cast in his Minneapolis district increased by 13,000 between 2010 and 2014, despite dismal turnout figures for Democrats nationwide. And Ellison thinks he can be a credible economic messenger for voters nationwide.
"This economy has decidedly not worked for everybody over the last 40 years," Ellison told HuffPost. "I'm the one who has walked picket lines with organized labor. I've walked with Verizon workers, with UAW workers. I've walked with nurses, with folks who ― they have to win this strike or they're gonna be without at the dinner table."
The Huffington Post is hosting a DNC debate on Jan. 18 at the Jack Morton Auditorium at George Washington University. Follow HuffPost Politics on Facebook to watch it live at 7 p.m. EST. We've created petitions below for each of the declared candidates; sign one if you're a supporter of a particular candidate. We'll announce the total level of support for each candidate at the beginning of the debate, and again at the end. (You can click through to each to see the current level of support.)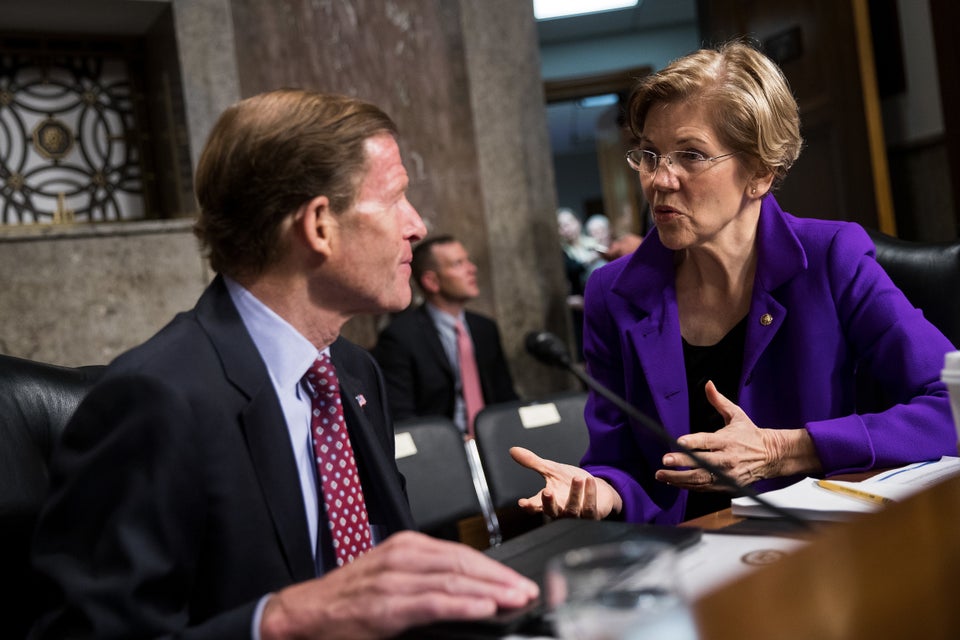 2017 Scenes From Congress & Capitol Hill