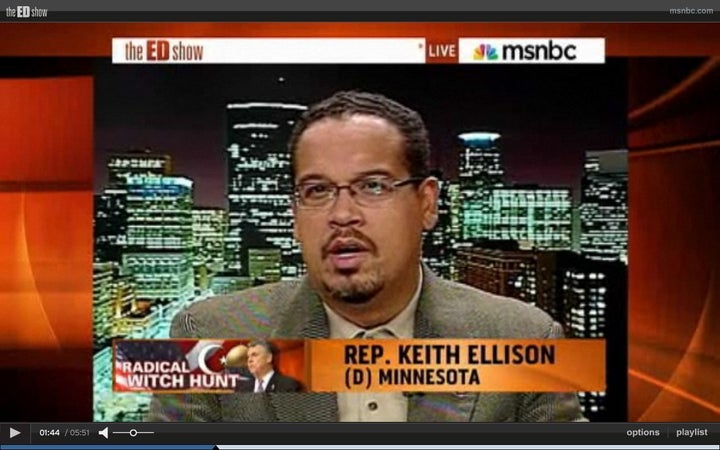 Rep. Keith Ellison (D-Minn.), the first Muslim elected to Congress, responded Monday to recent comments by a GOP colleague who promised to hold hearings on the "radicalization" of American Muslims next year.
"I got so concerned that when I heard about it I actually approached Congressman King on the House floor and told him that, you know, look, we all need to be concerned about violent radicalization, but not just against Muslims, against anybody," Ellison said on MSNBC's "The Ed Show." "What about the guy who flew a plane into the IRS or what about the guy who killed a guard at the Holocaust museum?"
Rep. Peter King (R-N.Y.), who will take the reins as chairman of the House Homeland Security Committee next year, announced his plans to investigate Muslim Americans last week.
"When I meet with law enforcement, they are constantly telling me how little cooperation they get from Muslim leaders," King told The New York Times. "It is controversial. But to me, it is something that has to be discussed."
Ellison claimed that King's rhetoric would only succeed in further fraying trust between Muslims and the authorities, as well making a significant portion of the American populace feel increasingly isolated.
"I'm willing to engage with Congressman King and say, 'Look, you want to talk about these things, let's do it responsibly.'" Ellison said. "Let's investigate this thing in the right way, let's talk about how we're gonna make America safer and enlist Muslim Americans to help safeguard our country and look at anybody that might get radicalized."
"I'm fearful that if you attack a discrete, insular community, that you will make people, good people, withdraw, and I would like to see Muslim leaders, if they feel that there is some national security threat in their midst, feel comfortable talking to the FBI, talking to local law enforcement, and this kind of stuff can really discourage that."
Rep. King also suggested in a recent Fox News interview that he was willing to be called a "bigot" over his plans, but that criticisms over his hawkish new calls to combat Muslim "radicalization" were simply "politically correct nonsense."
Ellison responded by airing his broad concern over radicalization, before arguing that King's choice to aggressively target only Muslims would "vilify" the community.
"You know it is worthwhile to find out what turns somebody from a normal citizen into a violent radical, but to say that we're only going to do it against this community and we're about to change the debate to vilify this community is very scary and clearly has McCarthyistic implications," Ellison said.
Popular in the Community