If Rep. Keith Ellison (D-Minn.), the first Muslim elected to Congress, were to run into U.S. Senate candidate Roy Moore on Capitol Hill, Ellison "would be happy to tell him why he's wrong" about Islam and how his Islamophobic views conflict with the Constitution, Ellison told HuffPost on Wednesday.
Moore, who was twice ousted as chief justice of the Alabama Supreme Court and who won the GOP nomination on Tuesday for an open Senate seat to represent Alabama, called on Congress not to seat Ellison due to his Islamic faith when Ellison was first elected in 2006. In a December 2006 column, the hard-line social conservative jurist claimed that Muslims' adherence to Sharia, or Islamic law, was incompatible with allegiance to the Constitution.
Even if Moore wins in the general election, Ellison does not anticipate seeing him much on Capitol Hill.
"The people in Congress who I deal with are usually people I'm working with ― Democrats or Republicans," Ellison said. "But I can't imagine a scenario under which he and I are working together."
Should their paths cross, however, Ellison, a fellow attorney, would not shy away from speaking his mind.
"He has to swear an oath to uphold the Constitution. The Constitution says, 'Congress shall make no law establishing religion, nor abridge the free exercise thereof,'" Ellison said, approximating the text of the First Amendment. "How then can he justify the anti-Islam stance he takes?"
"It's like he's engaging in psychological projection," Ellison said. "He accuses Muslims of trying to push Sharia law and yet he's the one trying to impose religion on other people, which is why he was ordered out of his seat."
"He was lawless! He wouldn't obey the law," he added.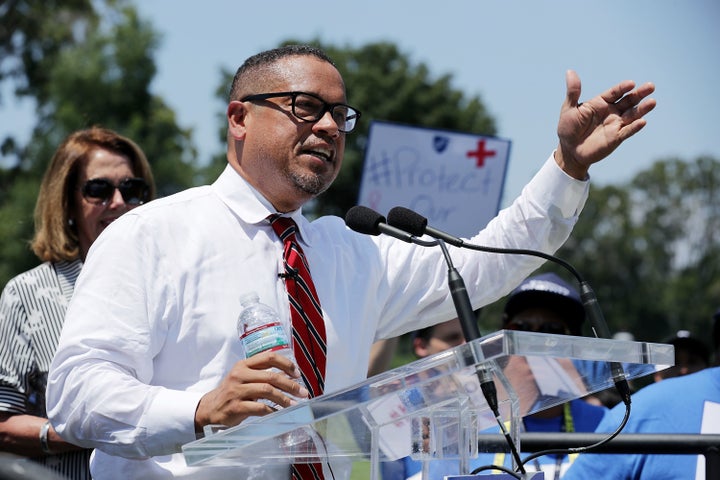 Ellison was aware of Moore's comments about him before Tuesday's election outcome, but Ellison said he has endured so much anti-Muslim bias that it no longer fazes him.
"If I had a nickel for every time some mean, bigoted person said something mean, I'd have a lot of nickels," he said.
Moore soundly defeated Sen. Luther Strange (R-Ala.) with a populist campaign that fed on anger toward the Republican establishment. His win was a major setback for President Donald Trump and Senate Majority Leader Mitch McConnell (R-Ky.), both of whom campaigned for Strange. Then-Gov. Robert Bentley (R) appointed Strange to temporarily fill the open Alabama spot after Trump nominated Jeff Sessions, who held the seat, as his attorney general.
In the meantime, Ellison is optimistic that Alabama voters will reject Moore's reactionary politics in the Dec. 12 general election, when Moore faces Democrat Doug Jones, a former U.S. attorney.
"There are plenty enough fair-minded Alabamians to defeat him in the general. People don't like that intolerance," Ellison said.
Jones is a "great candidate" and a "civil rights hero," according to Ellison.
As a U.S. attorney, Jones successfully prosecuted the Ku Klux Klan members responsible for the deadly 1963 bombing of a black Birmingham church.
"He couldn't be better-suited for the moment," Ellison concluded. "He is offering inclusion, human rights, civil rights for everyone, at a moment when the Republican candidate is trying to deny that."
Before You Go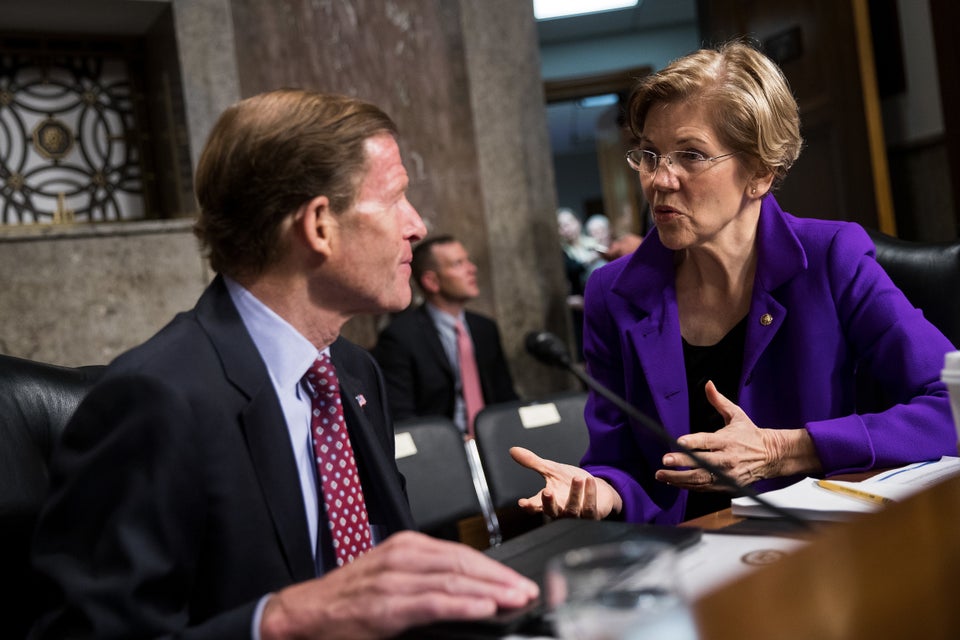 2017 Scenes From Congress & Capitol Hill
Popular in the Community