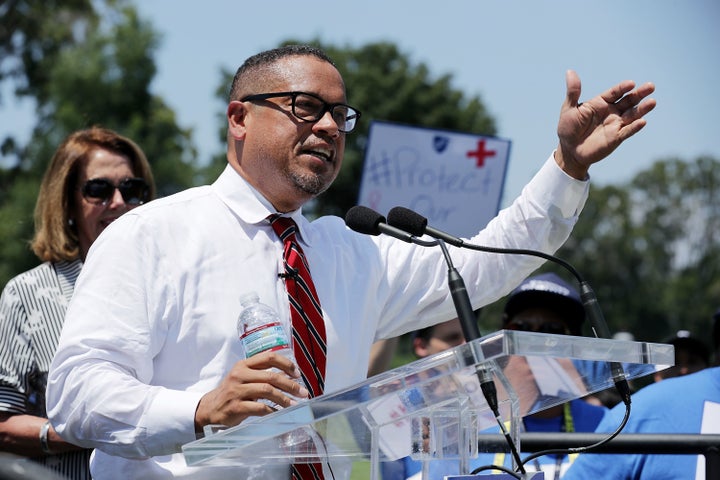 Rep. Keith Ellison (D-Minn.) is running for attorney general of Minnesota, setting off a potentially history-making battle that is sure to attract national attention.
He officially filed the paperwork for his candidacy on Tuesday afternoon.
In a statement explaining his decision, Ellison promised to continue the work he began in Congress fighting for consumer rights, labor rights, immigrant rights, antitrust reform and a clean environment.
"I am running to be the People's Lawyer to hold those in power accountable and to protect and defend all Minnesotans," he said.
Ellison, one of the staunchest progressives in Congress and the current deputy chair of the Democratic National Committee, would likely be the first Muslim statewide elected official in the country's history. Ellison was the first-ever Muslim member of Congress when he took office in 2007.
The six-term Minneapolis congressman would also be one of Minnesota's first black statewide officials. (Alan Page, a black attorney and former professional football player, was elected to the state's supreme court in 1992.)
"Keith Ellison continues to create watershed moments for the American Muslim community with his ascension in American politics," said Robert McCaw, government affairs director for the Council on American-Islamic Relations. (McCaw believes that Ellison would be the country's first Muslim statewide elected official, but could not say so with certainty.)
The election is likely to test the versatility of Ellison's progressive convictions and unique background on considerably more conservative and less diverse terrain than his reliably liberal home district.
Although the current attorney general, Lori Swanson, is a Democrat, she hails from the blue-collar Iron Range and holds more moderate views than Ellison.
The DFL, as the Democratic Party is known in Minnesota, decided to back the more progressive challenger Matt Pelikan for attorney general.
But Pelikan, 36, lacks major legal or political experience, creating the space for a more experienced challenger.
Ellison's decision to run is motivated as much by the availability of the post as by his desire to marshal the forces of the state to resist the agenda of President Donald Trump, according to a Democrat familiar with his thinking.
Ellison, 54, practiced law in Minneapolis from 1990 to 2007, when he began his tenure as a member of Congress. He spent the bulk of his legal career at Minneapolis' Legal Rights Center, a nonprofit that provided legal defense to the city's underprivileged minority communities. He developed a reputation for employing assertive legal tactics to help his clients, including filing multiple motions at a time on relatively small claims matters, according to a Mother Jones profile.
Ellison also faces former Minnesota Attorney General Mike Hatch, a more moderate competitor, in the DFL primary on Aug. 14.
If Ellison prevails in the primary, he will likely face state Rep. Doug Wardlow, the attorney general candidate endorsed by the Minnesota Republican Party.
Ellison plans to stay on as second-in-command at the DNC. DNC Chairman Tom Perez named him to the newly created post after prevailing in a closely fought race for the chairmanship that mobilized competing wings of the party.
"I have come to know Keith as someone who is passionate about finding every possible way to help the greatest number of Americans achieve a better quality of life," Perez said in a statement about Ellison's bid. "And I have witnessed that passion in every single decision he has made, including whether to continue the fight in Congress or to run and serve as Minnesota's chief law enforcement official."
However, while Ellison has publicly professed his satisfaction with his role as deputy chair, he has privately chafed under Perez's leadership, according to multiple people familiar with his thinking.
Ellison's decision not to seek re-election for Minnesota's 5th Congressional District has prompted several new candidates to jump into the race before the filing deadline at the end of the day on Tuesday.
The contender with the most national name recognition is state Rep. Ilhan Omar (D), a progressive who arrived in the country as a refugee and in 2016 became the country's first Somali-American female state lawmaker.
CORRECTION: A previous version of this story indicated Ellison would be the first Muslim statewide elected official in the country; it is unclear whether this designation would apply to him. This story also incorrectly indicated Ellison would be Minnesota's first black statewide official.
Before You Go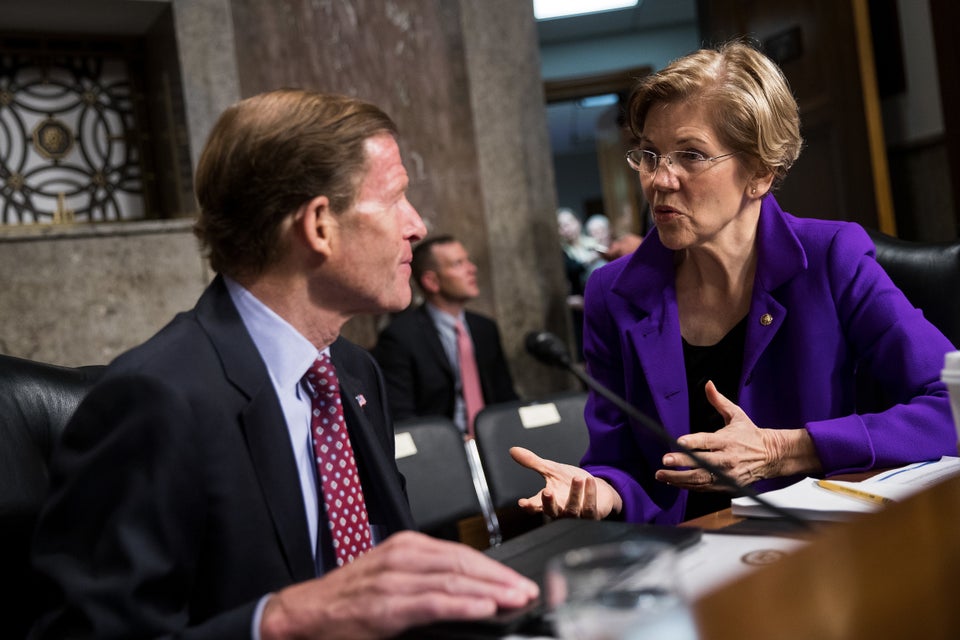 2017 Scenes From Congress & Capitol Hill
Popular in the Community