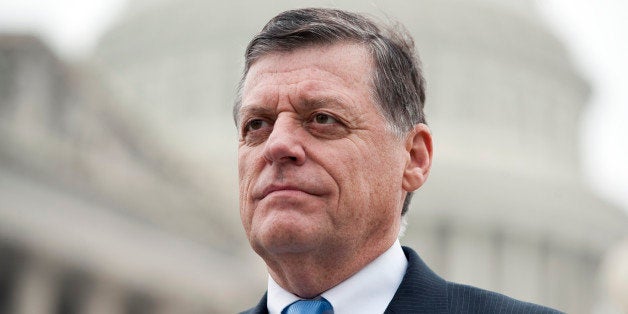 House Republicans are demanding health care and social services cuts, perks for Wall Street banks and big coal, and a one-year delay in Obamacare in exchange for raising the debt ceiling.
"The reality is the American people think we ought be in a negotiating posture on these things," Cole explained.
Cole called attention to Obama's unwillingness to vote in favor of an increased debt ceiling when he served in the Senate, and said the president is now asking lawmakers to "cast the vote he wouldn't cast." Cole said Obama's unwillingness to negotiate with Congress is unreasonable.
"It's the president who said, 'I'm not going to negotiate, you have to take it or leave it.' And that's simply unacceptable," Cole said.
Cole explained that House Republicans' demands were necessary to "change the trajectory of the debt."
Rep. Keith Ellison (D-Minn.) joined the MSNBC program, accusing Republicans of weaponizing what should be a civil negotiation.
"I think that weaponizing the debt ceiling is bad economic policy," Ellison said. "I think it's bad legislative policy, and I'm very sorry that this has happened. We can negotiate over the budget, we negotiate all the time, but to put something like the full faith and credit of the American economy on the line is just beyond the pale."
Cole explained that increased government spending, even to avert a government shutdown, comes at a cost.
"If you want to raise spending, you're going to have to vote for it," Cole said. "And maybe you want to stop and think about the course that you're on, and that's what we're talking about."
"I agree with Tom," Ellison said. "Tom's right about this. This is the purpose of the debt ceiling, this way, to say, 'Look let's stop and look at what we're doing.' But it's not to use as a leverage and a ransom."
REAL LIFE. REAL NEWS. REAL VOICES.
Help us tell more of the stories that matter from voices that too often remain unheard.
BEFORE YOU GO
PHOTO GALLERY
113th Congress Facts