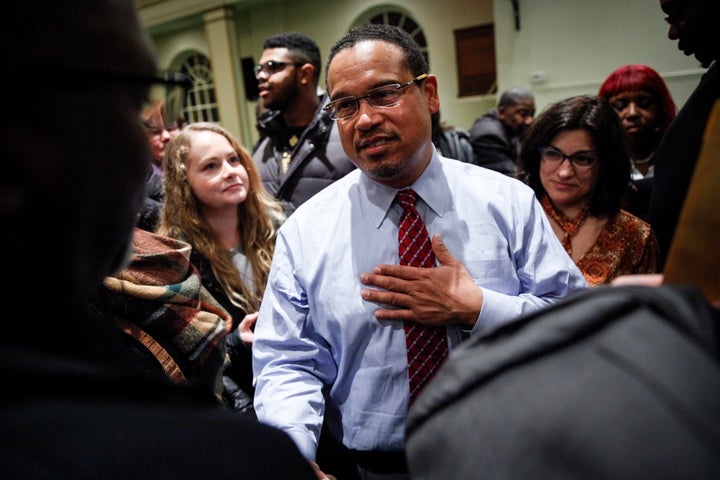 WASHINGTON ― President-elect Donald Trump won the election thanks to narrow victories in three historically Democratic states: Pennsylvania, Michigan and Wisconsin.
There are multiple ways that Trump could have won, even if Hillary Clinton had kept one or more of those states in the Democratic column.
But the loss by some 100,000 votes of the Northern industrial states that had not gone Republican in a presidential election since 1988 ― part of the so-called blue wall ― has been the cause of especially contentious soul-searching.
It is no surprise then that Rep. Keith Ellison (D-Minn.), a leading candidate to chair the Democratic National Committee, is fighting hard to whip up support from DNC officials in these key states.
In Wisconsin and Michigan at least, his work appears to be paying off. 
Head over here to learn everything you need to know about the DNC race.
Ellison publicized the endorsement of 32 prominent Wisconsin Democrats on Friday, including Sen. Tammy Baldwin and no fewer than three of the state's six voting DNC members whose support he needs to win the top spot. Andrew Werthmann, a city councilman in Eau Claire, Wisconsin, announced his support for Ellison that day, joining Wisconsin Democratic Party Chair Martha Laning and Wisconsin state Rep. David Bowen, who had already backed him.
In addition, Michigan Democratic Party Chairman Brandon Dillon endorsed Ellison on Thursday. Washtenaw County Commissioner-elect Michelle Deatrick, a fellow Michigan DNC voter, was already in Ellison's corner. 
Ellison's boosters in these crucial swing states point to his energy and organizing acumen in explaining their decision to get behind his candidacy.
"His record of winning elections in Minnesota and driving up turnout in his district speaks a lot to his ability to organize," Dillon said.
The number of voters in Ellison's Minneapolis district indeed rose by 13,000 between 2010 and 2014, at a time when Democrats drew pitiful turnout overall. 
I know people who supported Bernie who ended up supporting Trump. The populist message that Ellison is speaking is in line with that.

Andrew Werthmann, Wisconsin DNC voter
Ellison reached out to Dillon earlier and more often than the other candidates, Dillon added. 
And the Minnesota Democrat's Detroit upbringing gives Ellison the "most credibility to be able to deliver on" promises to rebuild Democratic operations in Michigan, according to Dillon, who previously represented Grand Rapids in the Michigan state house. 
Dillon was especially impressed with Ellison's ability to pack his brother's Detroit church for a town hall meeting on a rainy December night.
"There were a lot of people there who wanted to hear what he had to say," Dillon recalled. "He was upfront with people about not only needing to embrace new folks in the party, but making sure people working for a long time in Democratic politics feel like there is room for everybody."
Werthmann emphasized the appeal of Ellison's message in rural parts of the state. Werthmann's work for Wisconsin state Sen. Kathleen Vinehout's successful 2006 campaign, when Vinehout drew support among her fellow farmers with calls for single-payer health care, convinced him that a progressive economic message can appeal to voters with other conservative leanings.
"We're not doing a good job organizing in rural areas," Werthmann said. "I know people who supported Bernie who ended up supporting Trump. The populist message that Ellison is speaking is in line with that." 
Both Dillon and Werthmann said they had received far more calls from rank-and-file Democrats asking them to endorse Ellison, than his chief rival, Labor Secretary Tom Perez. 
The trade issue is a big issue not only in itself, but it is one of those things that signals your commitment to other issues and whose side you're going to be on.

Brandon Dillon, chairman, Michigan Democratic Party
Dillon, who remained neutral during the Democratic presidential primary, studiously avoided portraying his endorsement as the elevation of one faction of the party over another.
But the few noticeable policy distinctions between the two front-runners appear to have helped sway Dillon and Werthmann toward Ellison.
Ellison's opposition to the Trans-Pacific Partnership trade agreement was "an important consideration," Dillon said. Perez supported the 12-nation accord, but has claimed he only did so out of loyalty to the Obama administration in which he was serving.
Perez "had the same problem Hillary Clinton had in being credible on this issue by virtue of the public position he had to take," Dillon said.
"The trade issue is a big issue not only in itself, but it is one of those things that signals your commitment to other issues and whose side you're going to be on," he added. "As a party, we need to be much clearer and have no confusion as to where we stand: We stand with workers, middle-class families, the people trying to make ends meet ― and any issue that throws shade on that is a problem."
Werthmann, who supported Sanders in the primary, cited Ellison's promise to reinstate a ban on lobbyist donations to the DNC. Perez and two of the other five candidates have declined to make a similar commitment.
"People in this country want to see a move away from the dominance of big money in politics, and I think a policy like this will open up more opportunity for more small-dollar donations," he said.
Ellison has by no means locked up the three former Democratic strongholds won by Trump, however. He has yet to advertise any major endorsements from voting DNC members in Pennsylvania, the biggest and most reliably Democratic of the trio.
Pennsylvania Democratic Party Chair Marcel Groen, a Clinton supporter in 2008 and 2016, said last Friday that he had not made up his mind on who he was backing.
But he strongly implied he had ruled out Ellison due to the Minnesota congressman's outspoken progressive views.
"I am looking for someone who unifies the party, who will help us rebuild our political infrastructure, someone who is moderate, someone who ― I'm not looking for someone who gets strong reactions one way or the other," he said.
The Huffington Post is hosting a DNC debate on Jan. 18 at the Jack Morton Auditorium at George Washington University. Follow HuffPost Politics on Facebook to watch it live at 7 p.m. EST. We've created petitions below for each of the declared candidates; sign one if you're a supporter of a particular candidate. We'll announce the total level of support for each candidate at the beginning of the debate, and again at the end. (You can click through to each to see the current level of support.)
Calling all HuffPost superfans!
Sign up for membership to become a founding member and help shape HuffPost's next chapter
BEFORE YOU GO