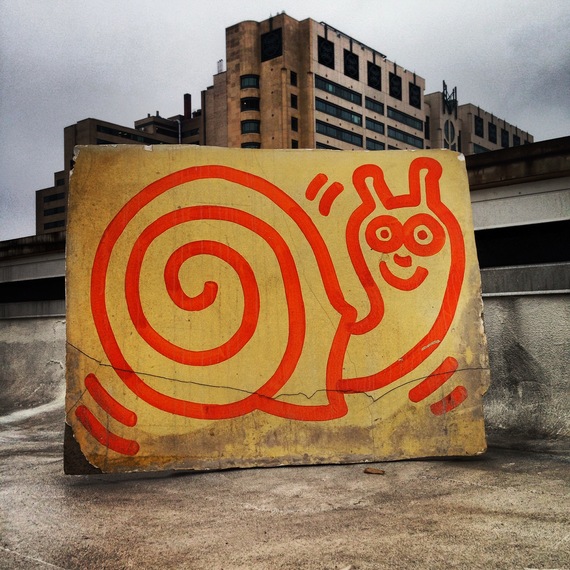 On the roof of Hughes Spalding Children's Healthcare of Atlanta, on a foggy day before a crippling ice storm, I photographed a fragment of a Keith Haring mural. It's about 2 feet by 3 feet and has a bright-orange snail painted on it. Mr. Snail bears a patina of grime from more than 20 years in storage. A crack cuts across his feet, but deeply imbedded rebar holds him together. Mr. Snail sits on his slab and smiles back at us even though he's lost all his friends.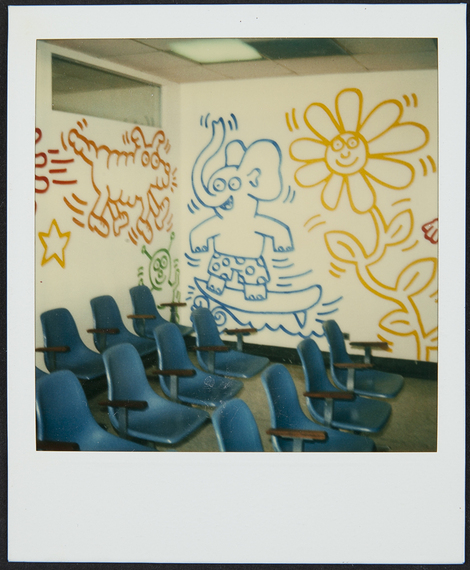 1998 Keith Haring mural at the former Grady Hospital pediatric emergency room, Atlanta, Ga. (Keith Haring artwork © Keith Haring Foundation, used by permission)
Keith Haring painted Mr. Snail and a menagerie of other creatures at Grady Hospital's then-new pediatric emergency room in 1988. Children's Healthcare grew rapidly and received their own building across the street, where Mr. Snail and I are perched. The mural lasted only four years before receiving the Atlanta wrecking ball. The original pediatric emergency room, including the Haring mural, was demolished to make way for something bigger and better at the hospital. If you look behind Mr. Snail, you can see Grady Hospital and the art-deco addition jutting out that displaced the Haring mural. Mr. Snail was the only figure that could be cut out and rescued; the bubbly fish, the surfing elephant, the smiling daisy, and the rest of Haring's characters were destroyed.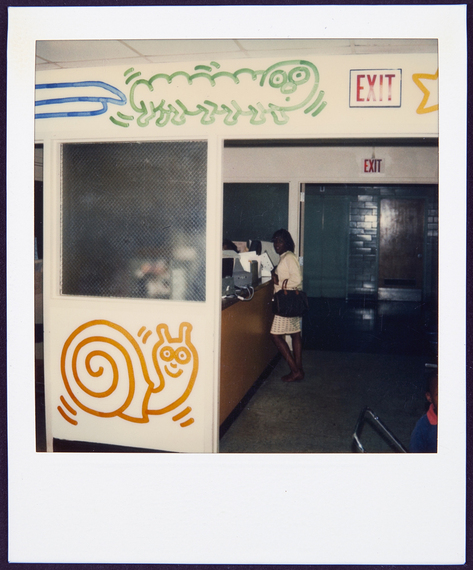 1988 Keith Haring mural at the former Grady Hospital pediatric emergency room, Atlanta, Ga. (Keith Haring artwork © Keith Haring Foundation, used by permission)
Haring created the mural as a charitable donation to the hospital during a trip to Atlanta. The High Museum of Art brought him to the city to hold a series of drawing workshops, and he managed to squeeze a day into his schedule to paint this mural. Kids around the world connected with Haring's simple, playful drawings, and he constantly donated his services to children's charities. Haring wanted to place his work where it could create the most impact, especially if it meant helping sick kids and worried families smile.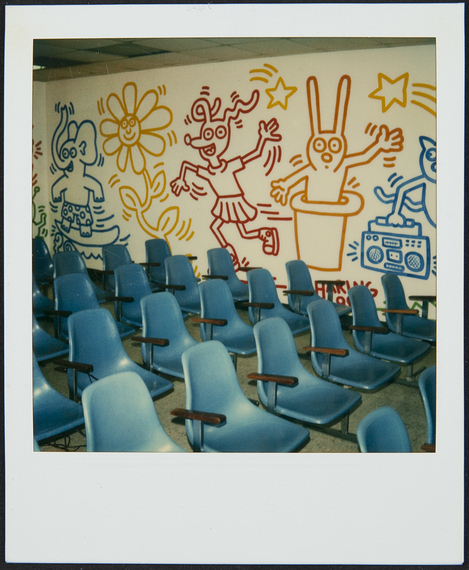 1988 Keith Haring mural at the former Grady Hospital pediatric emergency room, Atlanta, Ga. (Keith Haring artwork © Keith Haring Foundation, used by permission)
I also believe Haring hoped his murals would become valuable, cherished assets for the organizations he gave them to. During the 1980s, Keith Haring's childlike drawings made him a very wealthy man; people around the globe knew his work and bought his Pop Shop buttons, T-shirts, clock radios, and necklaces. Today, Haring's work can go for hundreds of thousands of dollars at auction; Sotheby's even featured a Manhattan mansionette with an original Keith Haring mural for $10 million dollars. In Philadelphia, a community came together to save a mural he painted on the side of a building -- they said the work was priceless. The mural at Grady was one of the last public murals Haring painted in America before his death in 1990; it would have been an incredible asset for the community.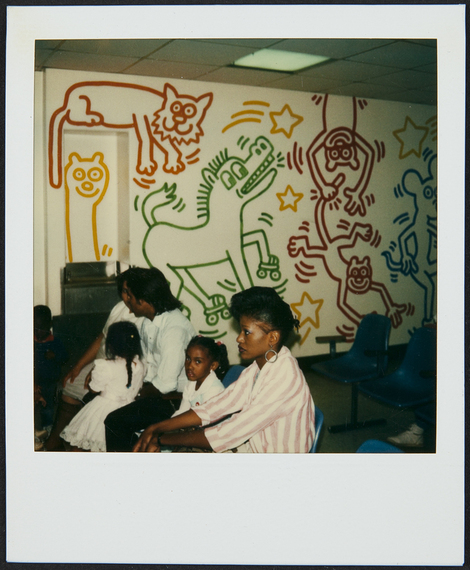 1988 Keith Haring mural at the former Grady Hospital pediatric emergency room, Atlanta, Ga. (Keith Haring artwork © Keith Haring Foundation, used by permission)
This mural was lost because expansion and improvement are valued above all else in Atlanta. In his journals, Haring noted the mural as being "permanent"; however, the need for more space to serve more patients necessitated that the wing with the mural be knocked down. Preserving the work of a gay man who had recently died of AIDS, during the peak of the AIDS crisis, proved to be too complicated and expensive a task. Only Mr. Snail could be pried off from under a window by the hospital facilities manager. Mr. Snail sat in a storage shed for more than two decades until I came along trying to find a trace of Keith Haring in Atlanta.
Chrissie Gallentine, PR specialist for Children's Healthcare, and Bill Auten, the facilities director for Children's Healthcare, hold the Haring fragment in front of the Atlanta skyline.
Over the summer I began devouring any material I could find about Keith Haring -- biographies, art books, and scratchy YouTube documentaries. I wanted to discover more about the queer people who made it possible for me to be an out and proud gay artist today. Of all the gay photographers, writers, philosophers, and painters I studied, Keith connected with me the most. He told me the story of his life through drawings, journals, Rolling Stone exposés, and MTV commercials; he spoke the language of the people.
His journals read like an adventure novel -- he dined with princesses, took drugs with rock stars, and even worried about changing planes in Russia as a gay man. Haring painted a blimp in France; a merry-go-round in Germany; a church in Italy; and drawings, paintings, and sculptures wherever he stopped. Only one small notation in his journals mentioned his work in Atlanta during 1988; I guess the South wasn't as glamorous as the rest of his life.
With Keith's passing, and with the advent of antiretroviral therapy, we've forgotten so much of this forefather of gay art. Today's generation of young gay men have no firsthand knowledge of the realities of the AIDS epidemic Haring faced. We have not seen our peers and role models infected by a mysterious virus wither away and die. The shadow of HIV looms over my sexual reality; however, my experience of AIDS is merely secondhand knowledge passed on to me. Keith Haring embodied a generation of gay men who died fighting on the front lines against this plague. He donated money, work, and his voice to fight the virus. Keith even received AZT treatment; however, when he was 31 the virus struck him down.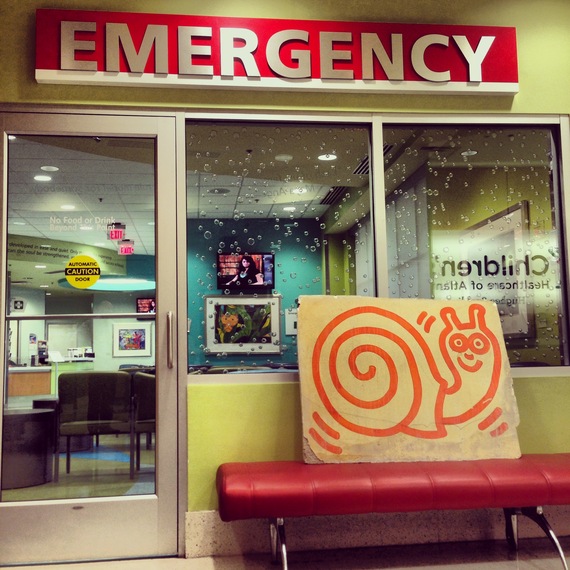 When I called the hospital to ask about the Keith Haring mural, I fully expected that it would have been painted over (the fate of many Haring murals I read about). What I found was a story typically Atlantan -- a singular figure rising from the rubble of destruction. Mr. Snail became another phoenix for our city, and I hope he continues to represent Keith Haring's brief time here in the deep South.
Mr. Snail will be hung in a new underground art gallery at Hughes Spalding Children's Healthcare of Atlanta. Many of the young patients at Hughes Spalding stay in the new building but receive treatment at Grady across the street. An underground passageway connects the two centers, and patients are routinely whisked between the two for their appointments. The facilities manager who saved Mr. Snail still works for the hospital, and he's building an art gallery in this passageway. He hopes to fill the space with all sorts of drawings and paintings to brighten the scary trip many sick children take every day.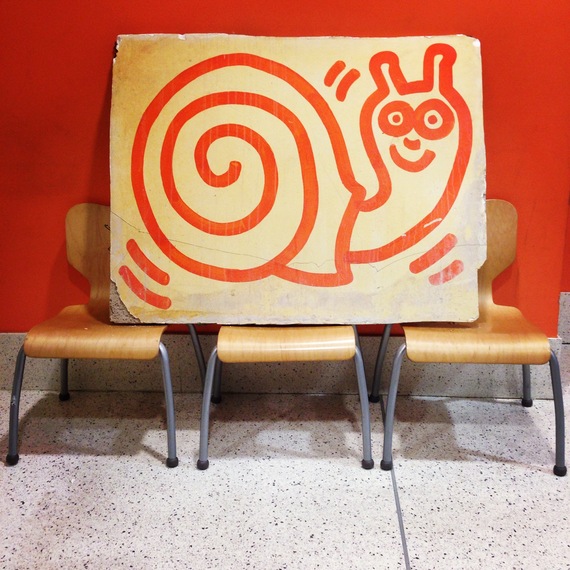 Popular in the Community