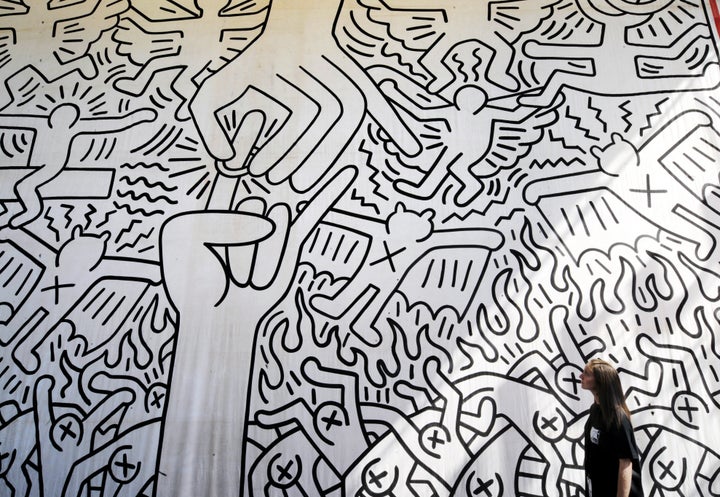 Keith Haring left his uplifting and wacky images wherever he roamed on the globe, but since his passing in 1990, many of the murals have fallen into disrepair. One community is fighting to preserve the last existing large-scale Haring mural in Australia, but it is encountering a lot of resistance.
Arts Victoria is expected to file a formal application to start the restoration process on a Haring mural painted entirely by the artist in 1984. The campaign to save the work began two years ago, but has picked up more steam once it was officially announced by Arts Victoria -- the government wing which implements art policy in the country. The plan would call for an investigation of the materials that Haring used, in addition to cleaning, protective coating and "selective retouching."
A spokeswoman for Arts Victoria told The Art Newspaper, "It is important to note that the [plan] does not rule out overpainting the mural in the future should appropriate materials become available that would not destroy the original paint work."
Julia Gruen, the executive director of the Keith Haring Foundation, said in a statement last November: "We are in favour of repainting Keith's murals... because it is more important that the work conveys Keith's ideals and respect for the communities in which he worked, rather than preserve a brushstroke."
Though Haring fans may cringe at restoring a mural renowned for being the last in the world to be painted entirely by the artist's hand, arguably this is what the artist would have wanted.
What do you think? Should the mural be repainted or kept as-is?
Related
Popular in the Community