Kansas Republicans are explaining that their controversial mailer questioning a Democratic state Senate candidate's name change -- a change he made after he was adopted as a child -- was sent out only after state Democrats mailed an inaccurate piece about a GOP candidate.
The mailer funded by the state GOP, which was sent to Wichita homes earlier this week, asks why Democrat Keith Humphrey has used the name Keith DeSoto at times and has given the name DeSoto to subsidiaries of his aerospace company. It suggests the Democratic candidate is "hiding" something. Humphrey is challenging incumbent Sen. Mike Petersen (R-Wichita).
"Keith Humphrey doesn't want you to know about his background ... or that his name hasn't always been Humphrey," the mailer says.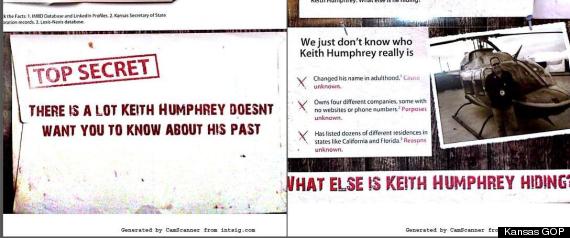 But Humphrey told HuffPost that he isn't hiding anything and that he changed his last name from DeSoto to Humphrey] at the age of 11 when he was legally adopted by his stepfather. When he began screenwriting in California, he said, he used the DeSoto name as a pseudonym. As for those business subsidiaries, Humphrey said that when he was reunited two years ago with his biological father -- who did not know his son had been adopted -- Humphrey wanted to find a way to honor that relationship. He added that the subsidiaries have created jobs.
Clay Barker, executive director of the Kansas GOP, said the party did not know Humphrey's personal story when it produced the mailer, but he still defended it. He said Republicans did not want to go negative and were merely following the Democrats' direction. In particular, Barker cited an ad showing a GOP state House candidate in handcuffs and a mail piece against GOP state Senate candidate Steve Fitzgerald that Barker said contained inaccurate information.
"The Democratic Party declared war when they put out a mail piece that was not true," he said. "They are blatant, flat lies. They decided that they'd go to a low that we have not seen before."
According to Barker, the ad in Fitzgerald's race claimed the Republican caused financial problems as treasurer of the state party and was forced out of the job. Barker said Fitzgerald took the post after the financial issues were found and did not seek a second two-year term. Fitzgerald, who has made his own headlines for saying good Catholics cannot be Democrats, is challenging state Sen. Kelly Kultala (D-Kansas City).
State Democratic Party spokesman Dakota Loomis defended the anti-Fitzgerald mailer, saying that the Republican resigned from the treasurer's post. The handcuffs on the House candidate were to show that the candidate had been arrested, he said.
"I don't understand what Steve Fitzgerald has to do with any of this," Loomis said. "That was 100-percent accurate, we not ask about Steve Fitzgerald and say he has a nefarious past."
Loomis also questioned the GOP's logic. "If they want to act like 10-year-olds and say that someone was mean so they get carte blanche to lie, then it shows how old they are," he said.
As for Humphrey, he said he wasn't expecting his name to become a campaign matter.
"It is an emotional issue," he said. "It is a family issue."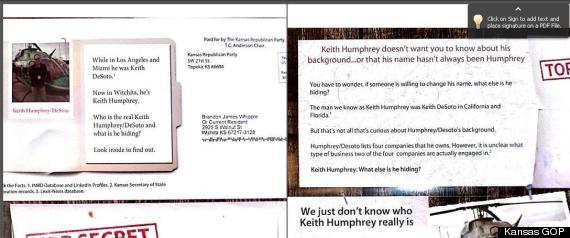 *************************
What's happening in your district? The Huffington Post wants to know about all the campaign ads, mailers, robocalls, candidate appearances and other interesting campaign news happening by you. Email any tips, videos, audio files or photos to openreporting@huffingtonpost.com.
Before You Go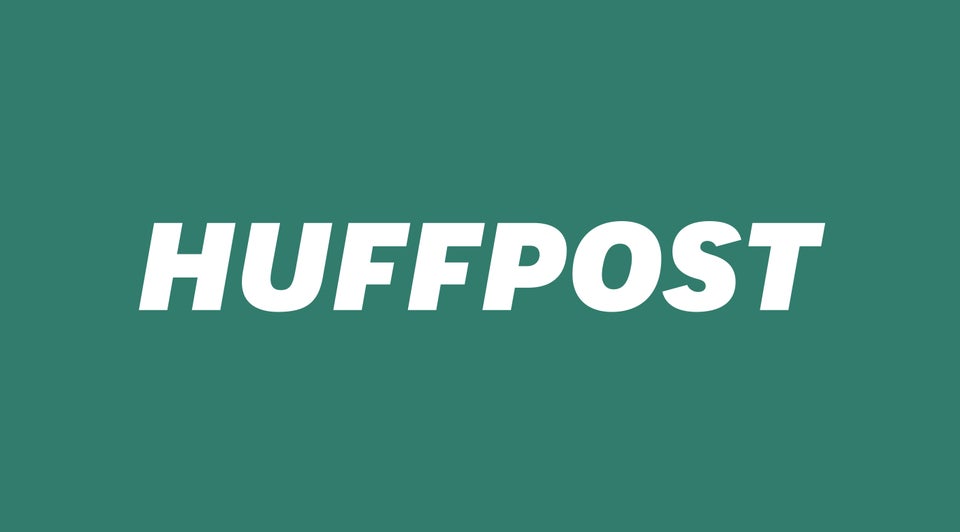 Polls: Obama vs. Romney
Popular in the Community