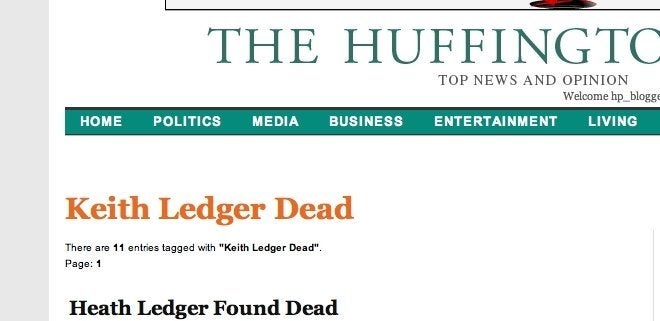 When news broke Tuesday afternoon that Oscar-nominated actor Heath Ledger passed away, news outlets scrambled to cover his death. Meanwhile, tens of thousands of concerned citizens took to web to learn more. Whether it be their haste while typing, unfamiliarity with Ledger's work or something else, they Googled various misspellings of Heath's name. Keith Ledger surged to the top of Google Trends. Knowing that, and following an editor's father calling to ask about Keith Ledger, Huffington Post went back and entered not just Heath Ledger as a tag to the story, but Keith Ledger as well. The misinformed and poor spellers were then served the story they were after when they searched.
But Wednesday, other internet outlets misidentified that tag as shoddy work. Gawker wrote:
Even HuffPo couldn't get it straight, tagging many of their Ledger posts, including Bonnie Fuller's, with "Keith" instead of "Heath."
But it was not instead, it was in addition to, as all posts were tagged Heath and Keith.
In its haste to post its take on the Ledger story, as Gawker points out, the Huffington Post erroneously tagged a piece about the death under "Keith" Ledger. And while the speed-trumping-all ethos is nothing new in journalism, it's still remarkable the extent to which those initial, speed-focused pieces set the tone of the story's coverage.
...according to commenters, tipsters and your mom, it turns out they did it on purpose, in order to catch web traffic from the legions of deaf, misspelling Google searchers who have never read USWeekly ever.
CJR understanding Google? TBD.

Calling all HuffPost superfans!
Sign up for membership to become a founding member and help shape HuffPost's next chapter