Political feuds are common ― especially in local government ― but rarely are they over the topic of sphincter bleaching.
Keith London, the mayor of Hallandale Beach, Florida, came under fire this week after he was caught on camera suggesting during a budget meeting that that's how a city commissioner makes her living.
It all started Monday evening, when London said a city firefighter had "a simple mind," which inspired Commissioner Anabelle Lima-Taub to come to the man's defense, according to NBC Miami.
"He has a college education ... you don't. I'm not really sure how you can call him a simple mind," she said. "He works for a living, you don't, so how you're going to call a city employee simple minded is shameful." 
"Do you look at my IRS form? ... You don't know what my tax return says do you?" he snapped. "See where my earned income came from last year."
"I know where your earned income came from," Lima-Taub said.
That led to this bizarre exchange:
London: I'm sure you do. Was it getting my sphincter bleached? Is that what I earn my income for?

Lima-Taub: Probably.

London: Oh OK, no that would be you and your family business. Congratulations. Sphincter bleaching is a very up and coming business. You want to make it personal commissioner, we'll make it personal all day long.
She was quick to point out that even if she did work at her mother's spa, there was no reason to bring up anal bleaching at the budget meeting.
"Even if I was doing that for a living, that's not appropriate," Lima-Taub told The Miami Herald. "For the sitting leader of a city to speak this way was completely inappropriate."
Tasteless, inappropriate remarks are nothing new for London, who was appointed mayor in January after his predecessor Joy Cooper was arrested and charged with money laundering, according to local station WPLG TV.
This year he was recorded asking a city employee if he "sucked d - - -" while in prison, according to the Herald, which censored the word.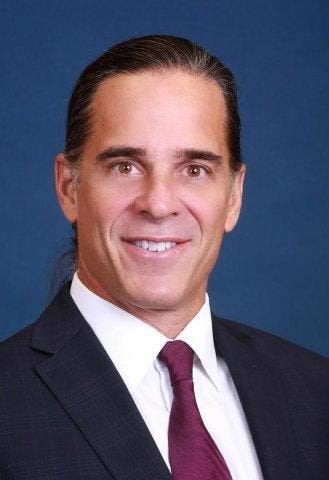 The bad blood flowed during a commission meeting on Wednesday night, when Lima-Taub demanded an apology from London, according to NBC Miami:
You said I do it. You said I bleach my anus. That's what you said. That's what you said. Family business has nothing to do with what's going on here.

You continue to talk about anal bleaching. You continue to talk about what I do, what does that have to Do with state business? What does that have to do with state business?
Lima-Taub eventually left the meeting, but not before accusing London of asking to be a client of her mother's:
"You're a sick, sick man. You're a pervert. Sick man, sick man you are. Why don't you tell everyone how you asked my mom to bleach your anus, why don't you do that, how you asked for it twice for free," Lima-Taub said.
London attempted to make amends as she left the room.
"Commissioner I just want to put on the record so you hear it, I apologize for my inappropriate remarks to you in Monday's meeting," he said, according to NBC Miami.
He offered another apology after the meeting.
"I unequivocally apologize. This was inappropriate and I do apologize," he said.
Lima-Taub told CBS Miami the incident was her Me Too moment. She alleged in her interview with the Herald that London has been sexually inappropriate with her.
"I'm not a small girl. I'm half Latin, I have a derriere and he's made comments about it," she said. She also alleged that London "felt very comfortable" patting her there "until my husband said enough is enough."
HuffPost reached out to London about Lima-Taub's allegations, but he did not immediately respond.
Calling all HuffPost superfans!
Sign up for membership to become a founding member and help shape HuffPost's next chapter