For Keith Mitchell, what started as a way to get out of going to church with his parents turned into a successful career. Keith was in the early years of a very successful professional football career when two games into the 2003 season with the Jacksonville Jaguars, that career was cut short when he made a particularly hard hit and ended up flat on his back. It wasn't supposed to be an unusual hit but as Keith told Deepak Chopra for NEWSWIRE.FM's program ONE WORLD, "from that point on, my journey truly began."
This particular hit left him with a spinal contusion that temporarily paralyzed him. "My mind was saying move, I thought I heard myself speak 'move!' but my body wasn't responding."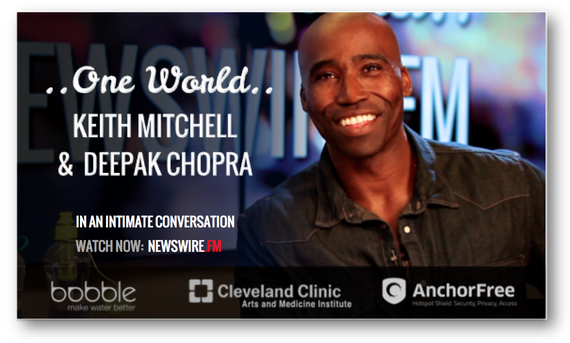 Just like that his football career was over. During the long and painful rehabilitation process, it was suggested to Keith that he explore meditation as a form of therapy. Due to his limited mobility, focusing on mindful breathing was one of the few things that Keith was physically able to do. The results were huge. Keith realized that he was also experiencing internal paralysis. "I had built everything that I thought I was as a football player and Keith...was neglected." Once being a football player was no longer an option, Keith was able to begin nurturing himself and focusing on himself as a person. Out of a traumatic injury that could have left him bitter and withdrawn, Keith was able to use meditation to grow as a positive and loving person.
Now Keith is giving back; he has taken what he's learned from his recovery and created Mindfulness Health Expos that brings children from different backgrounds together to enjoy one another's company. The Expo incorporates the concepts learned in meditation and yoga to ensure the health and wellbeing of all people in our communities.
For Keith, the recovery process isn't over and likely he will never be completely pain free after his injury but that doesn't define him as a person. Keith has focused himself on serving his community as well as other former NFL athletes who are dealing with similar injuries. It's work that Keith is passionate about and enjoys thoroughly. What could have been the worst moment of Keith's life has become the moment that gave his life purpose. "I'm so happy now, I'm so open to enjoying life. I tell everyone, I started really enjoying life when I stopped taking myself so seriously."
This is a blog series produced in partnership with One World, a video series with Deepak Chopra and NEWSWIRE.FM. To view the full video and subscribe to all the episodes click here.