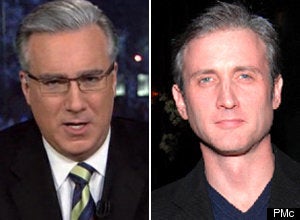 Keith Olbermann blasted the website Mediaite and its founder, Dan Abrams, Wednesday in a re-named "Worst Persons in the World" segment.
"The premise is the same but since some of the people did not get that the title was ironic, ladies and gentlemen, here are tonight's inductee and the two runners-up into the Countdown Hall of Shame," Olbermann said in introducing the new segment.
Mediaite was a runner-up Wednesday night for what Olbermann called "parroting" the Tea Partiers and saying that MSNBC suffers from a "remarkable lack of diversity." Olbermann disputed those claims, but then laid into, without mentioning by name, Abrams, the former host and general manager of the network whose 9PM show followed "Countdown" until Rachel Maddow took over in September 2008:
Perhaps the reason that Mediaite took a Tea Party's word for it is that this is the same site of a fired MSNBC employee. And in his attempt to implant his bitterness toward this place, to plug or weave it into his website, he has wigged out. He would like us to sweep his failure under the rug as if it were a bald-faced lie, or there will be hell to pay.
WATCH:
Abrams lost his MSNBC show, "Verdict," in 2008 but has remained with NBC News as the network's chief legal analyst. He has not yet responded on his website or on Twitter, but the site's managing editor, Colby Hall, did have the following to say in response:
I'm surprised that MSNBC bookers and Today Show producers haven't got the memo that [Abrams has] been fired. More importantly, the opinions and sentiments in all of Mediaite's pieces have been those of the editors and writers of Mediaite.
Hall ended with a shot at Olbermann: "Sadly, Keith Olbermann has lost it," Hall wrote.
Popular in the Community