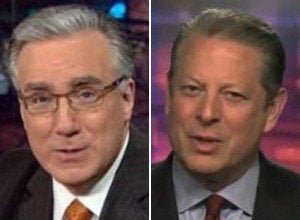 Al Gore personally asked Keith Olbermann to come to Current TV less than 24 hours after he left MSNBC, the former vice president told the Hollywood Reporter on Wednesday.
THR says it was Gore who convinced Olbermann to make the move to Current. "We've been friends for a while," he told THR.
During the conference call in which he announced his move, Olbermann made a point of praising Gore and saying how honored he was to be working for him.
THR says that the Current show, which does not yet have a title, will probably premiere in late May, after the deal Olbermann made with NBC blocking him from appearing on other networks ends. Back when he first left MSNBC, the New York Times reported that the "non-compete" clause in the deal would last at least six months. If the latest report is to be believed, though, that clause will expire after about four months.
Sources also told THR that Olbermann went to Current because it falls outside the terms of that deal, which specifies different channels that Olbermann cannot work for, even after the non-compete clause ends.
After the deal with Current was announced on Tuesday, Olbermann and Gore were spotted celebrating together at famed New York restaurant Michael's. The tipster for Page Six, which reported the sighting, said that Olbermann's new time-slot rival, Lawrence O'Donnell, was in another part of the restaurant at the same time. (Olbermann was also sporting a full beard.)
For THR's full report--including more of Gore's thoughts on the deal with Olbermann--click here.
Related
Popular in the Community