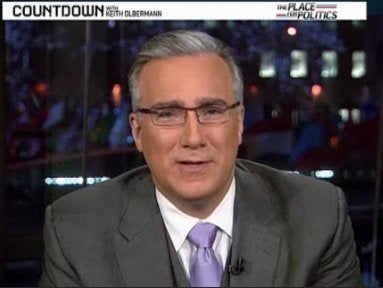 Monday night, Olbermann described Brown as "an irresponsible, homophobic, racist, reactionary, ex-nude model, tea-bagging supporter of violence against women and against politicians with whom he disagrees."
Olbermann responded to that criticism by doubling down the next night, adding "sexist" to his litany of complaints against Brown.
But on Thursday's "Daily Show," Stewart described Olbermann's comments as "the harshest description of anyone I've ever heard uttered on MSNBC" and performed an impression of Olbermann's trademark special comments.
Friday, Olbermann played Stewart's critique in full, offered himself as a guest for "The Daily Show," and responded with an apology.
"You know what, you're right," Olbermann said to Stewart. "I have been a little over the top lately. Point taken. Sorry."
Popular in the Community