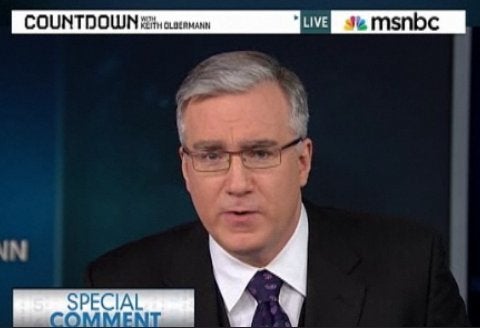 In the wake of Saturday's tragic shootings in Arizona, which have claimed the lives of six individuals and left many more, including Congresswoman Gabrielle Giffords, critically injured, Keith Olbermann delivered an important message about the place of violence within our democracy.
Appearing on a special edition of "Countdown," Olbermann told his audience that "we need to put the guns down. Just as importantly we need to put the gun metaphors away and permanently."
Olbermann continued, "Left, right, middle - politicians and citizens - sane and insane. This morning in Arizona, this age in which this country would accept "targeting" of political opponents and putting bullseyes over their faces and of the dangerous blurring between political rallies and gun shows, ended."
He concluded his special comment with this powerful statement, including an apology for his own actions: "Violence, or the threat of violence, has no place in our Democracy, and I apologize for and repudiate any act or any thing in my past that may have even inadvertently encouraged violence. Because for whatever else each of us may be, we all are Americans."
Read the full transcript here.
Support HuffPost
The Stakes Have Never Been Higher
Related
Popular in the Community