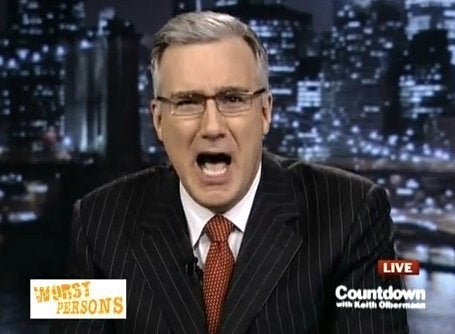 Olbermann used his Wednesday "Worst Persons" segment to highlight what he called a "festival" of outsized O'Reilly behavior this week. First, there was O'Reilly's statement that he has "more power than anyone other than the president." Olbermann said O'Reilly had broken the "megalomaniac's oath by revealing just how nuts he is," and noted that when O'Reilly boycotted France during the Iraq war, "the nation's business activity with France increased."
Then, Olbermann turned to O'Reilly's Tuesday comments, in which the Fox News host said that, if his taxes are raised above 50 percent, "I don't know how much longer I'm going to do this."
"Quit the show?" Olbermann said. "Quit teasing us like that! Jump! Jump!" He added, "at least we finally understand the president's tax strategy: get Bill-O to quit."
WATCH:
Related
Popular in the Community