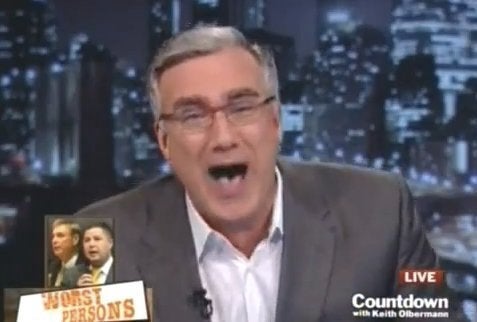 Keith Olbermann was especially feisty during his "Worst Persons" segment on his Wednesday show, going hard after Bill O'Reilly and even swearing on air.
Olbermann went after O'Reilly for his interview with Tavis Smiley and Cornel West. He played a clip of O'Reilly trying to control the combative duo and essentially failing. Calling him a "psychopath with a comb-over," Olbermann said that the "wake for Mr. O'Reilly's credibility" was to be held soon.
But Olbermann reserved even greater scorn for Brad Drake, a Florida state legislator who recently proposed to reintroduce executions by firing squad and electrocution in his state. Drake openly admitted that the idea came to him from a man he met at a Waffle House, and told a local paper that, if it was up to him, "we would just throw them off the Sunshine Skyway bridge and be done with it."
"You first, asshole," Olbermann said, going on to call Drake a "sociopath" and a "death fetishist."
Calling all HuffPost superfans!
Sign up for membership to become a founding member and help shape HuffPost's next chapter