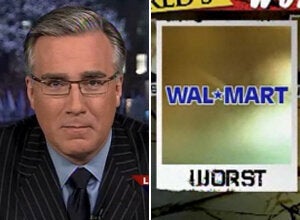 Last Wednesday, Keith Olbermann introduced the story of Debbie Shank, a 52-year old former Wal-Mart employee and mother of a soldier killed in Iraq who suffered serious brain damage after getting hit by a truck and was subsequently sued by Wal-Mart to recover $470,000 in medical expenses (Shank had won a substantial settlement from the trucking company and, after legal fees, took home $417,000). Olbermann, in the clip seen below, declared Wal-Mart his "Worst Person in the World" and has subsequently named Wal-Mart to his "Worst Persons" list every night since.
Women's Wear Daily/Memo Pad's Stephanie D. Smith reports today that Wal-Mart's corporate communications director, Daphne Moore, has responded with a statement:
"This is a very sad case and we understand that people will naturally have an emotional and sympathetic reaction. While the Shank case involves a tragic situation, the reality is that the health plan is required to protect its assets so that it can pay the future claims of other associates and their family members. These plans are funded by associate premiums and company contributions. Any money recovered is returned to the health plan, not to the business. This is done out of fairness to everyone who contributes to and benefits from the plan. The Supreme Court recently declined to hear an appeal of the case, which concludes all litigation. While Wal-Mart's benefit plan was entitled to more than the amount that remained in the Shank trust, the plan only recovered the funds remaining in that trust," which according to reports amounted to about $277,000.
Popular in the Community