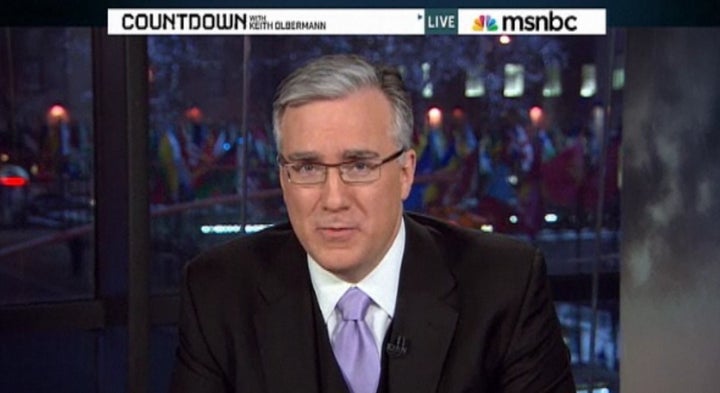 UPDATE: The New York Times' Bill Carter reports that Keith Olbermann's exit from MSNBC was "weeks in the making." According to Carter, Olbermann and MSNBC have both signed on to an agreement which bars Olbermann from returning to television for a period of time, though he is free to take a job on the Internet or the radio. Olbermann is also not allowed to comment publicly on the specifics of the deal, and there are restrictions on when he can give interviews about his departure.
Carter notes that the terms of the deal are similar to the one NBC struck with Conan O'Brien upon his exit from the network--exactly a year before Olbermann's.
ORIGINAL POST: Keith Olbermann and MSNBC abruptly announced Friday night that "Countdown" has ended, effective immediately.
Olbermann broke the news to his viewers during his show's final sign-off (full video below). He said that he had been "told" that Friday's show would be his last. MSNBC issued a statement with the news following Friday's episode.The statement read:
MSNBC and Keith Olbermann have ended their contract. The last broadcast of "Countdown with Keith Olbermann" will be this evening. MSNBC thanks Keith for his integral role in MSNBC's success and we wish him well in his future endeavors.
According to the New York Times, the host came to an agreement with NBC management late this week to step down. Clearly, though, that was a tightly-kept secret within MSNBC. The announcement was so unexpected that the network was still running ads featuring Olbermann an hour after he announced he was leaving.
NBC spokesman Jeremy Gaines said the Comcast merger had nothing to do with the decision. Comcast released a statement early Saturday morning echoing those sentiments. "Comcast has not closed the transaction for NBC Universal and has no operational control at any of its properties, including MSNBC," the statement said. "We pledged from the day the deal was announced that we would not interfere with NBC Universal's news operations. We have not & we will not."
An MSNBC source told the New York Times' Brian Stelter that Olbermann's exit was "all about what he did after the suspension."
The network suspended Olbermann last November for donating to three Democratic candidates, including Congresswoman Gabrielle Giffords, who was shot in Tucson January 8. The suspension brought Olbermann's already volatile relationship with his bosses to a new low. Instead of apologizing for his actions and keeping quiet (as NBC executives would have liked), the host turned his silencing into a cause celebre, issuing a statement and apologizing to his viewers for "unnecessary drama." As a result, MSNBC President Phil Griffin threatened to fire Olbermann if he went public with his grievances on other networks.
Whatever the reason for his departure, Olbermann leaves a strained and tense environment behind him, and MSNBC moved quickly to fill the hole in its schedule. Within minutes of the announcement, the network unveiled its restructured evening lineup. Lawrence O'Donnell, host of "The Last Word," will move to 8 P.M., while "The Ed Show" with Ed Schultz will air at 10 P.M. Rachel Maddow's program will remain in its 9 P.M. slot.
A source close to MSNBC management said network executives have grown increasingly impressed by O'Donnell and feel he has "grown into the job nicely." According to the source, Schultz will play well with both the late night and West Coast audiences.
"The debut of the new lineup will be the State of the Union, with Lawrence now the central player," the source said.
Another source close to the network's management said that O'Donnell's background in both politics and entertainment helps him. "O'Donnell is a liberal Democrat, but he is an inside player -- a player -- by nature, having worked on the Hill for Pat Moynihan and in Hollywood."
Others believe "Hardball" host Chris Matthews will benefit from the shakeup. "One of the other winners in this is Chris Matthews," a source close to MSNBC management said. "He's been steady and uncomplaining. His numbers are better and he has a natural Philly connection to Comcast."
In his final goodbye, Olbermann made a point to thank his audience for supporting him when he felt he could not continue the show:
There were many occasions, particularly in the last two-and-a-half years, where all that surrounded the show -- but never the show itself -- was just too much for me. But your support and loyalty and, if I may use the word, insistence, ultimately required me to keep going. My gratitude to you is boundless and if you think I've done any good here, imagine how it looked from this end... this may be the only television program wherein the host was much more in awe of the audience than vice versa.
WATCH OLBERMANN'S GOODBYE:
Related
Popular in the Community