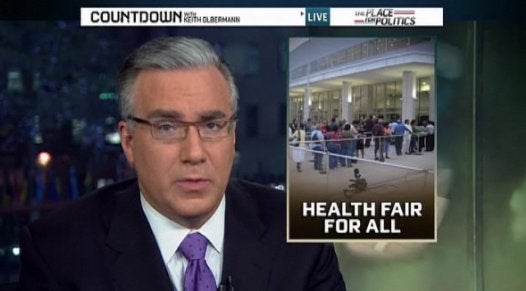 Because of an appeal during his special comment on health care, Keith Olbermann has helped raise $1.2 million for free health care clinics, resulting in new health fairs in Little Rock, Kansas City and New Orleans.
"I propose tonight one act with two purposes," Olbermann said then. "I propose we, all of us, embrace the selfless individuals at the National Association of Free Clinics. You know them, they conducted the mass health care free clinic in Houston that served 1,500 people. I want a mass health care free clinic every week in the principle cities of the states of the six senators key to defeating a filibuster against health care reform in the Senate."
Olbermann said he wanted "Sens. Lincoln and Pryor to see what health care poverty is really like in Little Rock....Sen. Baucus to see it in Butte....Sen. Ben Nelson to see it in Lincoln....Sen. Landrieu to see it in Baton Rouge...Sen. Reid to see it in Las Vegas."
Wednesday night on "Countdown," Olbermann announced that, thanks to the generosity of "Countdown" viewers, a health fair would take place in New Orleans on November 14. This is on top of health fairs already planned for November 21 in Little Rock and December 9-10 in Kansas City.
How did this idea come about?
"We were looking for something to relieve the frustration so many people felt," Olbermann told the Huffington Post. "I thought of an insurance strike, but insurrectionist as that might sound, it would endanger lives. So Rich Stockwell, one of my Senior Producers, suggested that the Free Health Clinics group turns every dollar donated into five in services. Thus if we helped them stage clinics in the key cities, we'd get help to thousands of people, we'd relieve that sense of near-paralysis, and we might even put some pressure on those Democratic Senators who won't even commit to precluding a filibuster. So this one was Rich's."
As for the re-brand of the Public Option as "Medicare for Everyone" — which Rep. Jim Clyburn attributes to the "Countdown" host — Olbermann said, "I'm sure that originated elsewhere but I think I might have been the first to put it out there nationally."
"Get a Blue Dog to support the option and raise a million-two," he added. "I'm pretty happy with that Comment."
Watch as Olbermann discusses the accomplishment with the executive director of the National Association of Free Clinics, Nicole Lamoureaux:
Related
Popular in the Community