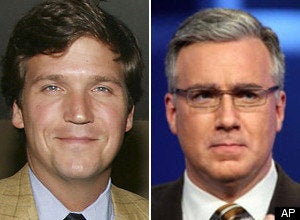 UPDATE: The text and headlines of this article have been changed to reflect Tucker Carlson's admission that he sent emails posing as Keith Olbermann.
Conservative pundit and Daily Caller editor Tucker Carlson perpetrated a hoax last weekend by posing as Keith Olbermann in a series of emails to a Philadelphia columnist.
On Tuesday afternoon, a set of emails surfaced on the Philadelphia news site Phawker. Phawker said that the emails showed the "100% for real" correspondence between Olbermann and Philadelphia Daily News columnist Stu Bykofsky over the weekend. In the emails, "Olbermann" talks about his boss, MSNBC President Phil Griffin, in hyperbolic, insulting terms.
In one email, "Olbermann" says that Griffin is "not my boss (thank god), nor is he intellectually qualified to be...I'll be anchoring on election night 2012, long after Phil Griffin has moved on to a job for which he's actually qualified, perhaps on QVC."
In another, "Olbermann" writes that "I could have Phil Griffin fired tomorrow if I felt like it, trust me. And if he keeps yapping about me in public, I may. For the moment, however, keeping Phil around is like having a drunk chimp in the office -- more amusing than threatening."
The incendiary emails seemed too good to be true -- and they were. They were sent from keith@keitholbermann.com. That's an address that is not owned by Olbermann, but by Carlson. In July, Carlson announced that he had purchased the domain name KeithOlbermann.com, and told Politico that people could email him at Keith@KeithOlbermann.com -- the same address that the emails to Bykofsky came from.
On Tuesday night, Yahoo's Michael Calderone reached Carlson by phone. Carlson confirmed that he had, in fact, sent the emails posing as Olbermann.
"Could you resist?" Carlson said. "It was just too funny. The flesh is weak."
Related
Popular in the Community