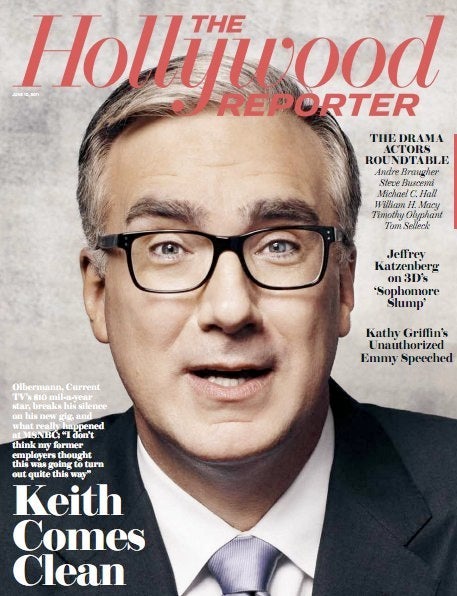 Keith Olbermann has a bombshell interview in the latest edition of The Hollywood Reporter. In the interview, Olbermann fully breaks his silence about his stormy exit from MSNBC, and reveals, among other things, that he has not spoken to former protege Rachel Maddow since his exit from MSNBC.
Olbermann left MSNBC in January, just months after he was suspended by the network for donating to three political candidates without first informing his bosses. He very publicly disagreed with this decision, and soon after, he and MSNBC mutually decided to part ways. Olbermann had always had a very tense relationship with the top brass at MSNBC—and, indeed, at just about every network he has worked at—and the situation had become untenable. He quickly jumped to Al Gore's Current TV, where his new nightly show, also called "Countdown," is debuting on June 20.
In one astonishing detail, Olbermann told THR's Marisa Guthrie that he began his final MSNBC broadcast not knowing if it would
be his last. Olbermann, Guthrie writes, "had prepared two endings for the show; one with two readings from James Thurber, and another with a Thurber reading and his farewell to viewers." It was only during the show that his representatives and MSNBC President Phil Griffin agreed to let him out of his contract.
Olbermann also revealed that he has not spoken to Maddow since his departure from MSNBC.
"There were lots of people who were forced to choose sides," he said. "And particularly in Rachel's case, I didn't want to add to the pressure on her already. The last thing I need to do is be calling her up and saying, 'How's that Michael Steele working out for you?' Which is exactly what I would do if I were in the office." MSNBC, he said,
THR also reports that Olbermann is making at least $10 million a year, though Current would not confirm that.
Speaking about MSNBC now, Olbermann said, "I don't think my former employers thought this was going to turn out quite this way I just don't think they thought they'd be in competition with me, so fast or at all. And my understanding is this has left a certain tension over there."
Related
Popular in the Community