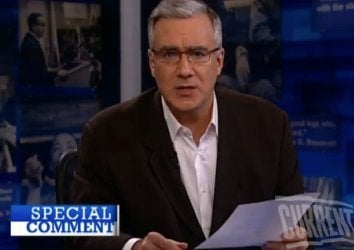 After a violent, nationally televised clash between police and Occupy Oakland protesters on Tuesday, Oakland Mayor Jean Quan is facing a growing list of heated voices recommending -- or demanding -- that she step down. Now, she can add political commentator Keith Olbermann to that list.
On Wednesday, Olbermann used the popular Special Comment section of his show, Countdown with Keith Olbermann, to slam Quan's handling of the protests and police reaction. "Mayor Quan is left with two choices," said Olbermann. "She can dismiss the acting police chief, Howard Jordan, and use her mayoral powers to authorize Occupy Oakland to protest again without harassment. Or, having betrayed everything she supported and all those who have supported her, she must resign."
Olbermann called the police's use of force a display of "astonishing brutality," and likened it to the Civil Rights Movement of the 1960s. Quan, who was out of town at a meeting in Washington D.C. during the clash, authorized the morning raid of the Occupy Oakland campsite but has been stumbling over the incidents that occurred at the violent protest following night. "I don't know everything," she said at a press conference on Wednesday, when asked if she was satisfied with how police handled the incident.
But Olbermann disregarded her comments, saying:
If one night a group of peaceful protesters exercising the rights given to them under the Constitution -- and not rights made up by the cops for the cops, like lawful command and imminent threat -- if they are attacked with tear gas and rubber bullets and the mayor's only comments are to commend the police chief for a quote 'generally peaceful resolution to a situation,' and after that claim 'democracy is messy' after the unprovoked actions of those police horrify a nation, she is endorsing and assuming for herself the responsibility for whatever havoc the out-of-control police officers have wrought.
Among the opponents is also political action group, MoveOn. In response to the incident, MoveOn released a video showing clips of the protests and tear gas raids, climaxing with footage of the critically injured Iraq war veteran, Scott Olsen, being carried to the medic. A narrator asks, "Mayor Quan, is this your city? Is this how we treat free speech in the United States of America?"
For her part, Mayor Quan has been aggressively attempting to amend the situation. On Thursday, she granted the protesters access to Frank Ogawa Plaza. Later that day, she personally visited Olsen in the hospital, shook his hand, apologized and promised an investigation.
Watch Keith Olbermann's clip on Countdown with Keith Olbermann, and then watch MoveOn's video below:
Calling all HuffPost superfans!
Sign up for membership to become a founding member and help shape HuffPost's next chapter