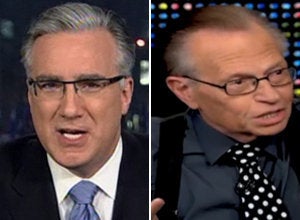 Olbermann, who worked at CNN during the 1980s and was a regular contributor to the network before launching "Countdown" on MSNBC in 2003, says that King tried to get CNN bosses to hire Olbermann as his lead-in.
"Larry King is a lovely, generous man who tried, for 8 years, to convince his bosses to hire me to be his 8 PM lead-in at CNN," Olbermann tweeted. "Oh CRAP. This means mine will be the longest running primetime cable news show not on Fox. CRAP CRAP CRAP," he added.
Olbermann has faced several CNN competitors over his years in MSNBC's 8PM slot, a fact he hinted at in his statement regarding the network's upcoming new show hosted by Eliot Spitzer and Kathleen Parker.
"As to Governor Spitzer and Ms. Parker, as they replace my old co-host Campbell as she replaced my friend Roland as he replaced Campbell as she replaced my old guest host Rick as he replaced Campbell as she replaced my old colleague Paula as she replaced my buddy Connie: best of luck," Olbermann told the Huffington Post at the time.