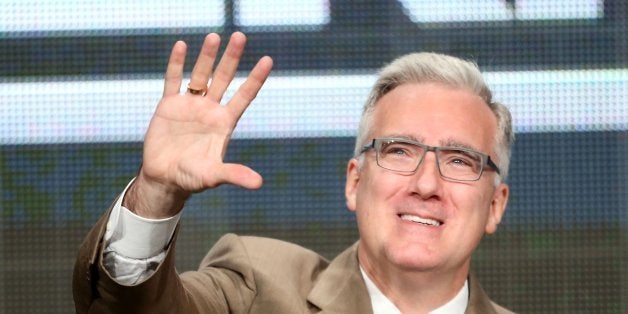 ESPN and Keith Olbermann are parting ways later this month, the sports network said Wednesday.
Olbermann rejoined "the worldwide leader in sports" in August 2013 with an eponymous talk show, "Olbermann," which airs on ESPN2.
Company officials reportedly chose not to re-sign Olbermann to a new contract rather than fire him. His contract expires this month.
ESPN released a cordial statement announcing Olbermann's imminent departure.
"Keith is a tremendous talent who has consistently done timely, entertaining and thought-provoking work since returning to ESPN. While the show's content was distinctive and extremely high quality, we ultimately made a business decision to move in another direction. We wish Keith nothing but the best and trust that his skill and ability will lead him to another promising endeavor."
As Olbermann and ESPN entered negotiations on a possible new contract earlier this month, The Hollywood Reporter said corporate executives might stipulate that Olbermann stop making "commentary." Olbermann roundly criticized NFL Commissioner Roger Goodell over his handling of Ray Rice's domestic violence case in 2014. ESPN often finds itself in a bind when its journalists cover news that affects the sports leagues with which the network has business deals.
It's yet another exit for Olbermann, who has appeared on several cable channels. He first attracted attention as an anchor of "SportsCenter" on ESPN, and went on to work at several other networks including NBC and Fox Sports, before returning to ESPN in 2013.
Olbermann is also following another top personality at ESPN through the exit. In May, it was announced that Bill Simmons would not have his contract renewed. ESPN officials announced Simmons wouldn't be back a day after he criticized NFL Commissioner Roger Goodell on "The Dan Patrick Show."
CORRECTIONS: This article has been updated to reflect that Olbermann worked for Fox Sports and not Fox News, and that Simmons criticized Goodell on "The Dan Patrick Show," not his own podcast.
Popular in the Community