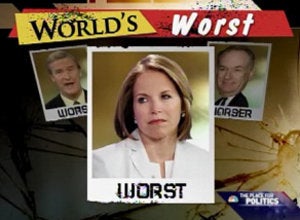 Olbermann called Couric's allegations of sexism "a bit Kool Aid-ish," charged Couric with misunderstanding Cowan's comment, and praised Cowan's objective reporting and his ability to separate the hype from the news.
"It is sad that Ms. Couric could not have emulated [Cowan] and separated the hype from the news in her own promulgation of the nonsense that Senator Clinton was a victim of pronounced sexism."
Related: Rachel Sklar reacts: "To sit there on MSNBC and say that it's nonsense is a bit rich, considering that some of the higher-profile episodes of embarrassing sexist-or-perceived-as-sexist commentary has come from that network." [ETP]
Calling all HuffPost superfans!
Sign up for membership to become a founding member and help shape HuffPost's next chapter