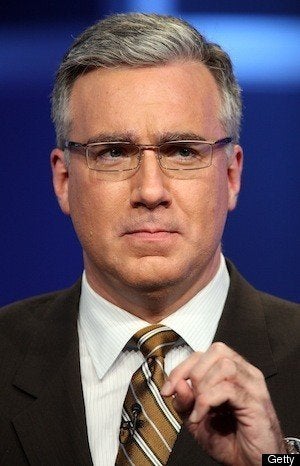 Keith Olbermann announced on Tuesday that he will host a one-hour, nightly primetime show on Current TV starting in late spring. He will also become the "chief news officer" for Current. Olbermann had been without a television home since he abruptly left MSNBC, where he had hosted "Countdown" for eight years, in January.
For Olbermann, his move to Current gives him a chance to wield large influence over a a relatively tiny network. Current averages about 23,000 viewers in primetime every night--a far cry from the million or so viewers who watched "Countdown."
In a conference call with reporters on Tuesday morning, Olbermann said that "nothing is more vital to a free America than a free media, and nothing is more vital to my concept of a free media than news that is produced independently of corporate interference." He called Current "the model truth seeking entity" in television, and said that his new show was "the most exciting event in my career."
Olbermann said the show "will be for all intents and purposes an improved and we hope amplified and stronger version of the show that I just did at my previous network." He could not, however, provide details of the name and time of the show, saying only, "stay tuned."
Al Gore, the chairman of Current TV, also spoke on the conference call. He said he was "extremely honored and delighted" that Olbermann was coming to Current. He said Olbermann was a "great fit with Current in every way."
Olbermann will also be the executive producer of the new show. In the conference call, he called Current the only "independent news and information" channel in the United States. He said he was looking forward to working somewhere where "purely market forces are not the deciding factor in what we're doing here."
"The answer is yes," Gore said. "We believe at Current that every citizen has freedom of speech, and that freedom of speech includes the ability to donate to candidates of your choice." He added that "full disclosure of that is
important."
As Chief News Officer, Current CEO Mark Rosenthal said, Olbermann will be intimately involved with all of the channel's news and informational programming.
Current has already launched a website for Olbermann's upcoming show. Here's a screenshot of what it looks like now: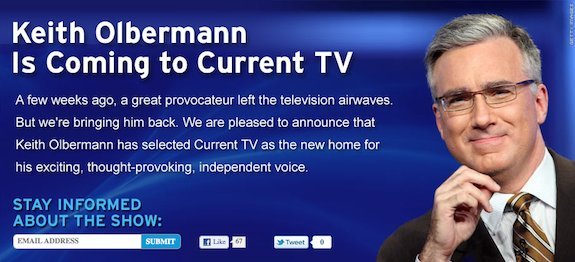 Support HuffPost
The Stakes Have Never Been Higher
Related
Popular in the Community