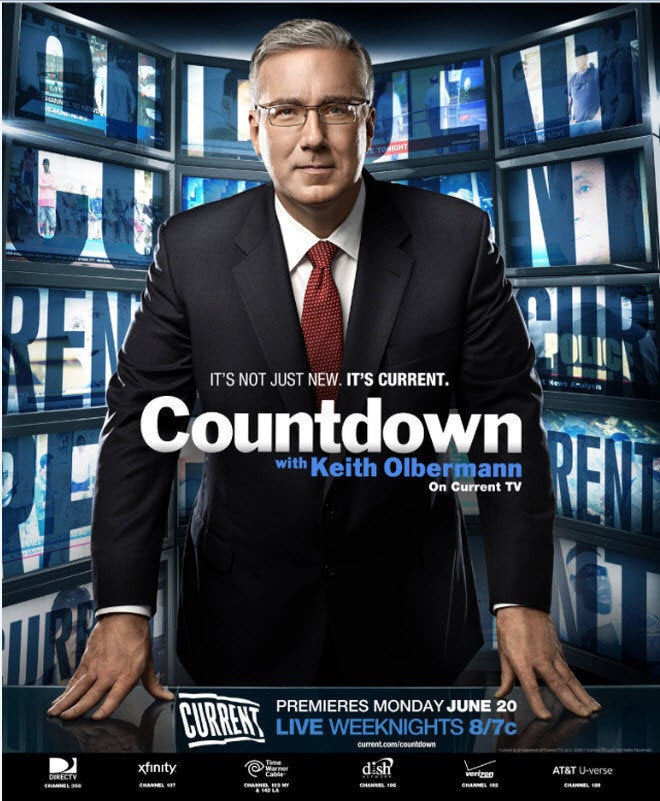 NEW YORK -- As Keith Olbermann gears up for Monday's launch of "Countdown" on Current TV, the outspoken cable host -- and his new network's top executives -- are already planning how to get on the map for 2012.
"The first thing you'll see other than 'Countdown' is 'Countdown's' coverage of a Republican debate," Olbermann said Friday in an interview with The Huffington Post.
Olbermann, who anchored major news events for MSNBC, said he'd play a similar role on must-watch political nights, like presidential debates and the pack of primary elections that make up "Super Tuesday" next February. By then, Olbermann may also have some company in Current TV's primetime lineup.
Joel Hyatt, Current's executive vice chairman, who co-founded the network with former vice president Al Gore in 2005, told The Huffington Post that he hopes to have a companion show later this year and, perhaps, another by early 2012. "We have a chance to play a significant role in election coverage," he said.
It's still unclear how Current might round out its primetime lineup as the network transitions to a 24-hour news and commentary operation. Since some of Olbermann's past fill-in hosts, including Rachel Maddow and Lawrence O'Donnell, eventually hosted their own primetime MSNBC shows, there's speculation that that David Shuster, Olbermann's former MSNBC colleague primary substitute on Current, will be a likely future host.
"It would be nice to think about a television show being an incubator for other television shows," Olbermann said, but that's "one of those things you cannot force."
"This is not 'All in the Family' spinning off 'Maude' and 'The Jeffersons,'" he said. "If people who have not had this opportunity before step up and really do the job, they could be the people who might do a nine o'clock show or a seven o'clock show."
Or maybe he'll look to 30 Rock.
Olbermann told NBC late-night host Jimmy Fallon Thursday that he'd like Maddow to come over to Current after her contract's up, a move that would certainly please one of his "Countdown" contributors, DailyKos founder Markos Moulitsas.
Moulitsas, who had a falling out with MSNBC brass after a Twitter spat with morning host Joe Scarborough, described Olbermann and Maddow as "the two most significant progressive voices on television" in an email to The Huffington Post. With Current, Moulitsas said, "finally progressives will have a network that isn't afraid to piss off the corporate masters at G.E. or Comcast."
"It's what progressives have needed for a long time," he continued. "I just hope we can see Maddow make the jump to Current when her contract with MSNBC expires."
During early talks with Current executives, Olbermann said he initially discussed launching a 9 p.m. show out of the gate with "Countdown." Of course, launching the new version isn't as simple as just moving it from one network to another.
Olbermann likened the situation to having the same Rolls Royce you did in January (the month he left MSNBC) but now it's "in small parts and none of us know exactly how to put certain parts together." In addition, he continued, you don't know "whether or not the thing is going to run when we'd taken it apart and smuggled it out under our clothing and reassembled it."
In other words, there was enough work getting one show off the ground, never mind two.
Olbermann, on a Friday conference call with reporters, likened Current to a start-up. Although on the air for six years, Current has never built a strong identity and attracts only 50,000 viewers in primetime. (Last year, Olbermann averaged over one million at 8 p.m.). Originally focusing on user-generated videos, Current's now turning to a major cable star to re-create its brand, a move Hyatt said doesn't change the network's DNA.
"Our goal's certainly remain the same," Hyatt said. "We want to reinvent journalism for the 21st century. We want to tell stories no one else is telling. We want to speak truth to power."
Current executives hope Olbermann can help them on several fronts. Olbermann, they say, will bring in more viewers, help create a brand identity popular with advertisers and eventually lead to increased distribution from 60 million homes nationwide to the 90-100 million range that other cable news networks enjoy. Current CEO Mark Rosenthal described Olbermann as "rocket fuel" for the young network.
"Keith will be an accelerant in terms of getting additional distribution," he said, "because cable operators who are not carrying Current will have to answer to their subscribers who say, 'I want to watch Keith Olbermann.'"
Current won't reveal how much it's paying Olbermann, but the Wall Street Journal put the figure at $9 million for the first year as part of a $50 million five-year deal along with an equity stake pegged at 2.5 to five percent. (Olbermann says published reports of his salary are inaccurate).
Either way, Hyatt described Olbermann as "a big investment" and said there's no risk, given his role in helping propel ESPN and MSNBC.
But one major difference in launching a commentary show on Current is that Olbermann will not have the possible resources of a legacy news organization like NBC. Olbermann, however, said not having a news gathering operation isn't a concern and pointed out that he rarely had NBC reporters on his nightly show due to logistics and the distance between the broadcast and cable sides.
"I can't remember the last time a White House correspondent was on 'Countdown,'" he said.
During the conference call, Olbermann acknowledged another upside in his new arrangement: not being tied to a larger corporation like Comcast or G.E. Olbermann said the "purity of this operation" is that he doesn't have to worry about whether what he says on air will affect the conglomerate's other non-news businesses.
"There is nothing on my shoulder other than getting the best news, information and commentary show on the air every day," Olbermann said, adding later that in writing practice shows, "I've stopped myself from stopping myself."
Since leaving MSNBC, Olbermann said he hasn't been tuning in to cable news, including his former colleagues-turned-competitors. "I have not watched MSNBC for more than five minutes since I left it," he said.
Olbermann, on the call, also dismissed Fox News host Bill O'Reilly as being less relevant these days. "I think Bill has lost a little on his fast ball," he said. For that reason, he said, it's less likely O'Reilly will be discussed on his show.
Later, by phone, Olbermann explained why he's not tuning in to cable news. "So when I say, 'I don't watch,' it's not that I don't care," Olbermann said. "I get my news from a thousand sources online and a little radio and a very little TV. It's not cable news."
Since the public, like Olbermann, is presumably "getting the news from somewhere else," the once-and-future "Countdown" host said that he hopes viewers turn to Current for "for one word: contextualization."
Popular in the Community