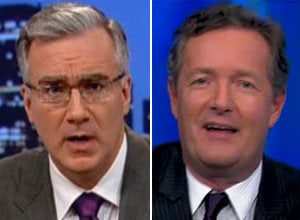 A spat between two outspoken media personalities broke out Thursday evening after Keith Olbermann publicly criticized Piers Morgan on Twitter.
"Who walks out on @PiersMorgan tonight? I'm betting on...the audience (as usual)," Olbermann wrote. It didn't take long for the feud-happy Morgan to respond with a dig at Olbermann's ratings (which are considerably lower than his own since Olbermann moved to Current TV). An hour later Morgan upped the ante, calling Olbermann a "coward" and challenging him come on his CNN show to debate him.
The two men have a history. Back in January, Morgan announced that he was banning Olbermann temporarily from his show. (This is one of Morgan's favorite things to do.) He said he was blacklisting Olbermann to "confuse and bemuse him, and hopefully engender a violent reaction."
Olbermann responded to the challenge tweet by writing that Morgan had been badgering him to come on the show, after "banning him for life." He then got in a phone hacking joke before saying good night to his undoubtedly fired up followers.
See the back and forth below:

Related
Popular in the Community