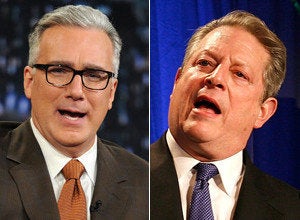 Keith Olbermann and his former employer reportedly settled a $50 million lawsuit out of court on Tuesday, multiple outlets reported.
The broadcaster sued Current TV for $50 million after the progressive network fired him one year ago. Current TV countersued, arguing that Olbermann's lawsuit was "riddled with falsehoods."
Settlement specifics were not disclosed, however a source told Deadline that Olbermann will receive a "a significant payout from Current."
Current TV founder Al Gore recently sold the network to Al Jazeera for a reported $500 million. The Doha-based broadcaster plans to use the channel to launch Al Jazeera America. The network has been searching for office space in New York, the city from which the channel will be based. Most recently, Al Jazeera looked at the former New York Times building on 43rd St.
As for Olbermann, the broadcaster has been reportedly eyeing a return to the anchor seat at the network that made him famous—ESPN. The New York Times reported that Olbermann and ESPN president John Skipper had dinner. According to Skipper, there was no role for Olbermann to assume at the time of the meeting. "When somebody leaves, somebody else fills their place," he said.