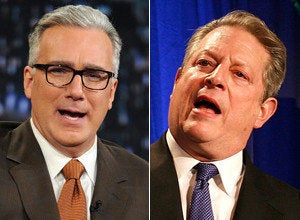 Keith Olbermann sued Current TV on Thursday, claiming that the network owed him up to $70 million in cash and equity compensation after his termination last week. TMZ was first to report the news.
Olbermann, who sued for breach of contract, was fired from Current TV last Friday, just one year into his five year $50 million contract.
Olbermann cited a list of complaints in the lawsuit including the network broadcasting ads containing his image without his permission; refusing to invest resources in his show; using his name to endorse third party services; and disclosing confidential terms of his contract to the press. The lawsuit also states that "Olbermann was disheartened to discover Al Gore, Joel Hyatt, and the management of Current are no more than dilettantes portraying entertainment industry executives."
Network co-founders Al Gore and Joel Hyatt released a statement announcing Olbermann's exit last week, stating that their relationship with the broadcaster no longer reflected their core values of "respect, openness, collegiality, and loyalty." They also announced Olbermann's immediate replacement, former New York Gov. Eliot Spitzer.
Olbermann released his own statement over Twitter. He said that he would take legal action against the network and echoed this sentiment during an appearance on "Late Night with David Letterman." He also told Letterman that he "screwed up" in deciding to work at Current TV.
Olbermann's firing came just fourteen months after his stormy exit from MSNBC. Following his MSNBC departure, Olbermann quickly signed on with Current TV and brought his signature show "Countdown" to the network. It wasn't long before news of Olbermann's clashes with management —a familiar narrative for the newsman — surfaced.
Network sources reported that Olbermann was in serial "breach of contract," and took "unauthorized absences." The Daily Beast's Howard Kurtz reported that Olbermann refused to toss to other hosts' shows or to appear with colleagues in network ads. Olbermann denied such accusations.
The network's new 8:00 p.m. show, "Viewpoints," which debuted just hours after Olbermann's departure, brought in disappointing ratings on Friday. Spitzer drew only 47,000 total viewers with 10,000 in the key 25-54 demographic. The Hollywood Reporter pointed out that these numbers are down 74 percent compared to Olbermann's average viewership during March.
View Olbermann's lawsuit, obtained by The Huffington Post's Michael Calderone, below:
UPDATE: Current released the following statement in response to Olbermann's lawsuit:
Current terminated Keith Olbermann last Thursday for serial, material breaches of his contract, including the failure to show up at work, sabotaging the network and attacking Current and its executives.

As the old adage says: "When the law is on your side, you argue the law. When the facts are on your side, you argue the facts. When neither the law nor the facts are on your side, you pound the table."

We will be happy to engage on the law and the facts in the appropriate forum.

It is well established that over his professional career Mr. Olbermann has specialized in pounding the table.

However, Mr. Olbermann, by filing his false and malicious lawsuit, has now put this matter into a legal process where there will be an objective review of the facts.

We hope Mr. Olbermann understands that when it comes to the legal process, he is actually required to show up.