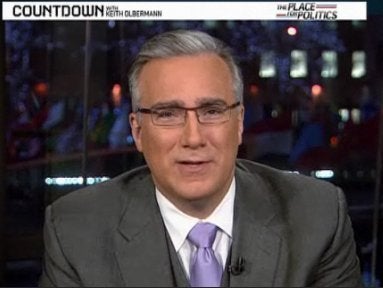 The backlash against NBC's decision to indefinitely suspend host Keith Olbermann without pay has been swift and vocal -- and from some unlikely voices.
Among media personalities and even straight-forward reporters, there has been a bit of shock over what was viewed as a knee-jerk punishment for a fairly minor ethical lapse. Bill Kristol, the longtime conservative scribe for the Weekly Standard, penned a blog post under the headline "Keep Keith!" excoriating MSNBC's brass for muzzling someone whose ideological leanings are fairly self-evident.
Perhaps Olbermann violated NBC News "policy and standards." But NBC doesn't have real news standards for MSNBC--otherwise the channel wouldn't exist. It's a little strange to get all high and mighty now.

But there's now a Republican House, and perhaps GE is trying to curry favor by dumping Olbermann?

Republicans of the world, show you believe in the free expression of opinion! Tell the crony corporatists at NBC--keep Keith!
The more common response, however, was one of confusion. For critics of the suspension, the notion that media outlets can't partake in the political process was made antiquated after it was reported that Fox News's parent corporation had made several million-dollar donations to Republican apparatuses or conservative entities. Even some MSNBC personalities have made political contributions in the past. As Greg Sargent pointed out: "Joe Scarborough, too, gave at least $4,200 in 2006, to House GOP candidate Derrick Kitts of Oregon, according to the FEC."
http://voices.washingtonpost.com/plum-line/2010/11/keith_olbermann_suspended.html
And as Atrios noted, Pat Buchanan has made over $2000 in political donations.
Scarborough's donation came before the NBC policy outlawing political contributions was put in place. And there was early reporting that he was given the green light to write his checks by NBC president Phil Griffin. Buchanan, meanwhile, is an analyst and not a news host. Nevertheless, even mainstream reporters couldn't quite comprehend the logic of sacking Olbermann (at least temporarily) for making three max contributions.
Zach Wolf, of ABC, tweeted: "How is giving $2400 to Raul Grijalva less journalistically sound than his liberal nightly comments? I don't get the MSNBC v. Olberman flap."
Dave Weigel, at Slate, offered that the lesson learned from the saga is "if you're media and you're going to make a political donation, make it to the RGA."
Rich Sanchez, whose tenure with CNN ended in far more nefarious controversy, expressed sympathies for Olbermann's treatment: "Got to work w/ Keith when I was at MSNBC," he tweeted. "He's a solid journalist. Hope this passes."
For progressives, in the end, the issue became one of false equivalencies. In addition to News Corps.'s donations, there have been more than 30 instances of Fox News employees or personalities supporting Republican causes, according to Media Matters, the progressive media watchdog group. If these individuals weren't being punished, why should Olbermann? (The invariable response, in turn, lent itself to a rabbit hole of speculation about the politics of NBC operations.)
The loftier debate is whether the notions of ethical purity is outdated in journalism. Under strict interpretation of the rules, Olbermann violated his company's policies. And for that, his punishment is, at least, rationalized.
But the notion that what he did is rare in the industry he serves does seem far-fetched. This past September, the Center for Responsive Politics produced a study showing that "235 people who identified themselves on government documents as journalists, or as working for news organizations, who together have donated more than $469,900 to federal political candidates." One of those individuals was Chris Hayes, who gave $250 to the campaign of his good friend, Alabama Democrat Josh Segall. Hayes was rumored on Friday to be Olbermann's replacement host that night.
Sen. Bernie Sanders (I-Vt.) today issued the following statement on MSNBC suspending Olbermann for exercising his First Amendment rights.
"It is outrageous that General Electric/MSNBC would suspend Keith Olbermann for exercising his constitutional rights to contribute to a candidate of his choice. This is a real threat to political discourse in America and will have a chilling impact on every commentator for MSNBC."
UPDATE: Ex-New York Gov. Eliot Spitzer made an impassioned defense of Olbermann on CNN's "Parker Spitzer" Friday night. "It is a ridiculous, false line that's being drawn in the sand, and I don't buy it for a second," Spitzer said. Will Cain of The National Review likewise said Olbermann should not face punishment.
Related
Popular in the Community