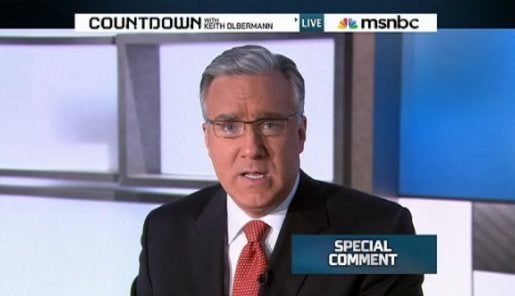 MSNBC host Keith Olbermann lashed out at ABC's former "Nightline" host Ted Koppel and the mainstream media generally in a lengthy "special comment" at the end of his program "Countdown" on Monday night.
Koppel sharply criticized the rise of partisan journalists like Olbermann, whom he described as "the most left-leaning among MSNBC's left-leaning, Fox-baiting, money-generating hosts," in an op-ed published in Sunday's Washington Post. On Monday night, Olbermann launched a full-throated defense of his network, arguing that beloved anchors who are considered objective, from Walter Cronkite and Edward R. Murrow to Koppel himself, have long exercised significant editorial judgments.
But Olbermann blasted the reporting Koppel and others did on the U.S. government's justifications for the war in Iraq, which he described as "worshiping before the false god of utter objectivity."
"I may ultimately be judged to have been wrong in what I am doing. Mr. Koppel does not have to wait," Olbermann said. "The kind of television journalism he eulogizes failed this country because when truth was needed, all we got were facts --- most of which were lies anyway. The journalism failed, and those who practiced it failed, and Mr. Koppel failed. I don't know that I'm doing it exactly right here. I'm trying. I have to. Because whatever that television news was before -- now we have to fix it."
Watch Olbermann's special comment below:
Calling all HuffPost superfans!
Sign up for membership to become a founding member and help shape HuffPost's next chapter