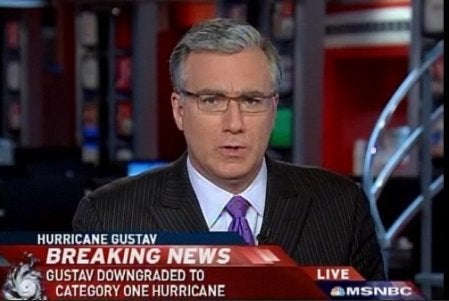 One person not returning from his Hurricane Gustav coverage location will be MSNBC's Keith Olbermann. Olbermann led coverage last night from New York, and will now co-anchor prime time convention coverage from MSNBC HQ with Chris Matthews at the RNC.

An MSNBC spokesperson tells TVNewser, "Since the next hurricane may hit on Thursday night, Keith will remain in New York. But, he'll co-anchor with Chris who will be on our Rice Park set."
MSNBC tells the Huffington Post, "Keith has anchored numerous breaking news stories over the past five years, including coverage of Katrina."
MSNBC's increasingly paranoid Keith Olbermann is threatening to quit unless his bosses beef up his security, sources say.

Olbermann - upset to be anchoring at the Democratic National Convention from an outdoor set near Denver's train station - "announced that his bosses [had] better find a more secure location for him to broadcast from at the Republican National Convention [in St. Paul, Minn.] or he's not going," one insider said. "He thinks someone will assassinate him." MSNBC had no comment.

Even before he left New York, the biggest mouth at MSNBC was worried about his safety. When a car was late to take him to the airport, Olbermann threatened via e-mail to stay home, another insider told Page Six. The blowhard whined to producers, "I could have been attacked on the street."
Perhaps conspiracy theorists could be excused for reading something into NBC News' decision to redirect Olbermann from St. Paul back to New York for the Republican National Convention this week.

"You shouldn't read anything into that," said Steve Capus, president of NBC News.

Chief White House correspondent David Gregory will take Olbermann's place at the anchor desk with Matthews during the abbreviated convention.

Olbermann is in New York to help direct the network's coverage of Hurricane Gustav, explained Capus.

"Keith is particularly strong at being the quarterback for this kind of coverage and that's why we're pulling him back."
REAL LIFE. REAL NEWS. REAL VOICES.
Help us tell more of the stories that matter from voices that too often remain unheard.