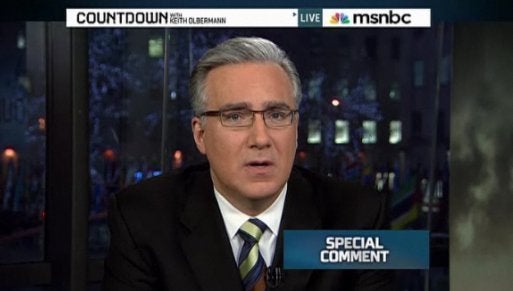 "Last Friday night, my father asked me to kill him."
Keith Olbermann opened his emotional Special Comment on health care Wednesday with the story of his father's six-month-long hospitalization suffering through a colon removal, pneumonia, kidney failure, liver failure, and many infections.
After a particularly difficult week, Olbermann said he went into his father's hospital room to find him "thrashing his head back and forth" and mouthing the word "Help."
"It was just too much for my father," Olbermann said. "'Stop this,' he mouths. 'Stop, stop, stop.'"
Olbermann said he resorted to gallows humor, asking his father, "What, you want me to smother you with a pillow?" And his father responded, mouthing, "Yes, kill me."
"And as I left the hospital that night, the full impact of the last six months washed over me," Olbermann said. "That conversation, that one, was what these ghouls who are walking into Blair House tomorrow morning called death panels. Your right to have that conversation with a doctor. Not the government, but a doctor. And your right to have insurance pay for his expertise on what your options are when dad says 'Kill me' or what your options are when dad is in a coma and can't tell you a damn thing."
Olbermann then laid into those who spread fear about death panels.
"That, right now, is the legacy of the protests of these subhumans who get paid by the insurance companies, who say these things for their own political gain, or like that one fiend, for money," Olbermann said. "Betsy McCaughey told people tht this conversation about life and death and relief and release...she told people that's a death panel and she did that for money! It's a life panel. A life panel. It can save the pain of the patient and the family. It's the difference between you guessing what happens next and you being informed about what probably will. And that's the difference between you sleeping at night or second-guessing and third-guessing and thirtieth-guessing yourself."
"It's a life panel, and damn those who call it otherwise to hell!" he said.
Olbermann closed the comment with news that his father has not awoken since Friday, and that it's now possible he never recovers.
"So considering that if he does not recover you will not see me here for a while, I have some requests," he said. "Please, have this conversation with your loved ones. Don't wait. Do it now. It's tough. It acknowledges death, and it also narrows the gray area you and they will face from infinity to a foot wide. It is my greatest comfort right now and I want it to be yours. And to the politicians who go into Blair House tomorrow, for that summit, I have some requests as well. Leave your egos at the door. I want, I demand that you give everybody in this country a chance at the care my father has gotten. And I demand that you enact this most generous and kind aspect of the reform proposed, the right to bill the damned insurance company for the conversation about what to do when the time comes. The life panel."
Support HuffPost
The Stakes Have Never Been Higher
Related
Popular in the Community