An FBI agent testifying at cult leader Keith Raniere's sex-trafficking trial in Brooklyn, New York, stoically displayed 18 nude photos of a 15-year-old girl who allegedly joined Raniere's NXIVM group in 2005. 
FBI Special Agent Meagan Rees presented the nude photos of the girl, page by page in a binder, as she walked in front of the jury box, The New York Daily News reported. They were not revealed to spectators in the courtroom.
Prosecutors say Raniere began having sex with the teen — who was identified only as Camila — when the photos were taken and he was 45 years old. They have identified her as the youngest of three sisters from Mexico — all of whom allegedly had sex with Raniere. All had abortions; the oldest of the three sisters has a child with Raniere, according to prosecutors, Courthouse News Service reported.
The middle sister, Daniela, testified two weeks ago that Camila began having sex with Raniere when she was underage. Raniere called Camila "Virgin Camila" or "VC," Daniela testified. Camila had come to New York to to be a maid for a former member of NXIVM after the girls' family became deeply involved with the group, according to Daniela.
The photos showed another chilling glimpse into NXIVM, which was started in upstate New York as a "self-empowerment" group with instructional courses. Law enforcement authorities say it devolved into a master-slave sex cult by 2005.
Defense lawyers have insisted Raniere's encounters with women in the group were consensual and intended to help with their personal growth.
Raniere kept nude photos and other embarrassing information about women to ensure "loyalty," obedience and silence about the workings of the operation that involved branding women and forcing them to bring him other females, prosecutors have charged. 
As investigators acted on complaints from former group members last year and began to close in on him, Raniere fled to Puerto Vallarta, Mexico. He was found there last year with a group of women, including "Smallville" TV star Allison Mack, and arrested. 
Mack, 36, pleaded guilty in April to two federal counts of racketeering and racketeering conspiracy. She's currently being being held under house arrest at her parents' California home in Los Alamitos, and is not expected to testify against Raniere.
Testimony in the case against Raniere is expected to be wrapped up Friday.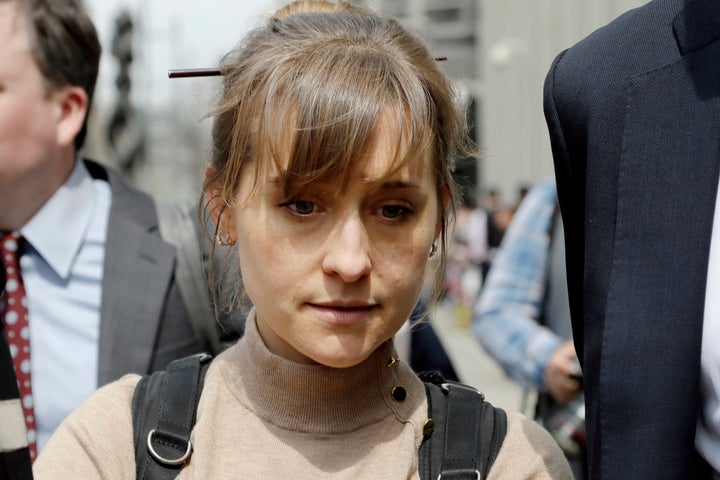 Calling all HuffPost superfans!
Sign up for membership to become a founding member and help shape HuffPost's next chapter