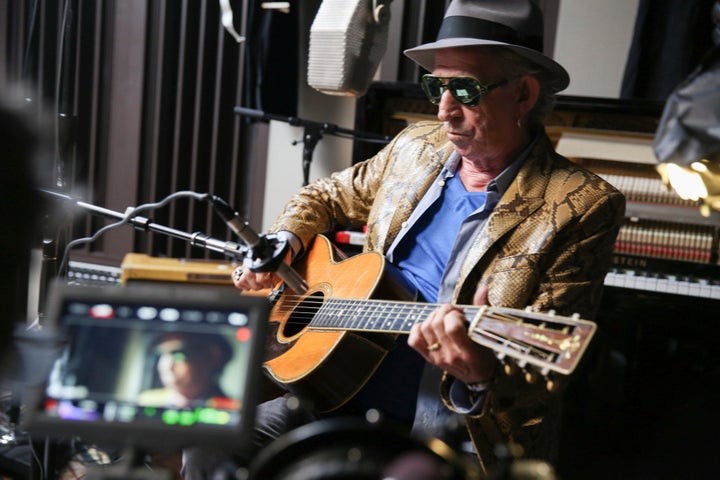 Imagine listening to vinyls all day with one of the greatest guitarists of our time. That's what filmmaker Morgan Neville ("Twenty Feet from Stardom") did for a sit-down interview with Keith Richards, which eventually grew into an unexpected full-length documentary.
In "Keith Richards: Under the Influence," which made its world premiere at the Toronto International Film Festival last week, Neville explores the many musical inspirations behind the latest solo album from The Rolling Stones guitarist. On "Crosseyed Heart," his first solo record in two decades, Richards fluctuates from bluesy rock and roll to country to reggae. Beyond uncovering the sonic roots behind Richards' songs, Neville captures the essence of the songwriter and guitarist in his film, revealing the musician that's so laid back and cool "you want him to be your dad," as Neville said.
From Richards' bumbling recollections of famous Stones recording sessions to the time Chuck Berry punched him in the face to his profound love of all music, "Under the Influence" shows us more of the legend behind the cigarette and bandana. We caught up with the Oscar-winning director over the phone to hear about his time with Richards and the spontaneity behind the making of the film.
How awesome was it to hang out with Keith Richards?
If I told my 14-year-old self that I'd be hanging out with Keith Richards talking about records, my head would've exploded.
What was the original idea behind making this doc?
First of all, it was most definitely not supposed to be a film. I got a call from [Richards'] manager, Jane. She wanted to know if I wanted to interview him to have something to go around the new album. [...] Then I heard the record and it had all these different influences. I came up with this idea that I'd show up at his house with a pile of vinyl and a turntable, and that we would just talk about all of these different influences in his life. He came in and immediately started going through the records. It was George Jones, Lightning Hopkins, Johnny Cash, Loretta Lynn, The Flying Burrito Brothers. He started playing songs and we had this amazing three hour interview. At the end, Jane said, "God, that was great. Keith had a great time. We should keep filming. But we're not going to make a documentary." So it was just one of those things where we kept going. [...] The edit was going so well that it somehow became a feature length.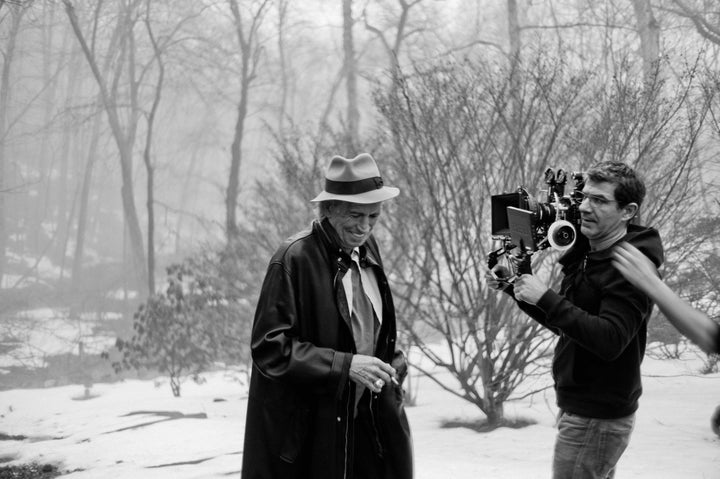 So in a way, having made many films that have taken me years at a time, this was like raw, intuitive rock 'n' roll filmmaking. [...] To me it was just about capturing the essence of Keith today, what it would be like to sit around to talk about life and music with him. The Keith that's in the film is exactly who I think he is. He's somebody who kind of doesn't give a shit about what anybody thinks. He's so comfortable in his own skin and so willing to talk about anything. I find that kind of admirable. I wish I didn't care about what people thought as much as Keith Richards doesn't care. 
There's moments in the film where he recalls stories about the Stones. Did those come up naturally or did you ask him about them?
He brought it up. He was talking about doing the new album and Steve Jordan, who produced the new album, had brought up Keith's process on some of his older Stones records. And of course we're all Stones fans. It's interesting because one of the things people forget about Keith Richards is he's one of the greatest songwriters of the 20th century. You think of him as the icon or persona with shades and a cig looking half stoned, then you remember, "Oh, he's one half of one of the greatest songwriting teams of all time." If you actually go back through the Stones' catalogue, which I have, and listen to "Can't You Hear Me Knocking" and "Wild Horses" and "Under My Thumb" and on and on and on -- he actually wrote all these songs. You forget that.
You interviewed him for your Muddy Waters doc, "Can't Be Satisfied," and you also worked with him on "Crossfire Hurricane." Was there any difference between him then compared to now?
Sure. I think it made it a little easier for me because I was less intimidated. I don't think it made any difference to him, because he's never intimidated by anything. But I will say, "Can't Be Satisfied," it was 2002 maybe, and he was great then, but he seems much happier and much sharper now than then. It's funny. [He's] even more intelligible, because he has a very unique way of speaking. I remember that interview from "Can't Be Satisfied," I could understand about 50 percent of what he said, and on this film I could understand 80 to 85 percent of what he said. I don't know what the difference was. He just seemed a little more present now. Someone like Keith Richards is supposed to have died 40 years ago; he seems remarkably in a good place. [...] When he was young, he seemed like an old soul and now that he's older he seems oddly youthful.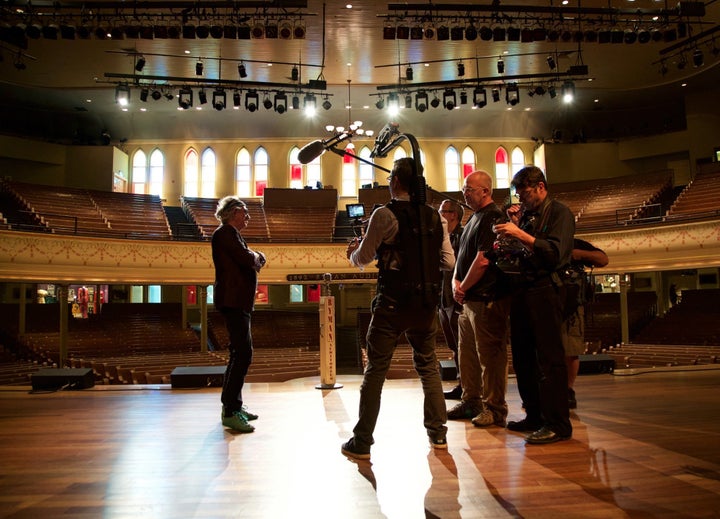 Do you think that has anything to do with him going solo again now?
I don't, because he always says his first love's the Stones and even though he's doing solo stuff, he was on tour with the Stones this summer and they're going on tour in the spring. He loves that and he really loves working with the Stones. I think in a way just doing music is what makes him happy. I think five years ago, six years ago when the Stones stopped touring, he wrote the book, he and Mick weren't talking, it seemed like the Stones may never happen again and I think that's the moment he was considering retiring. I don't think he picked up a guitar for months. I think getting back to the music is the thing that nurtures him. I kind of think of music as his religion. It's like the one thing that's always consistent in his life that never betrays him, that gives him nourishment. He's told me this -- the further he gets away from music, the more of the real world bullshit he has to deal with. But when he gets to be on stage or the studio or be writing a song,  is when he's happiest.
Near the end of the film, Keith says, "My idea of heaven is to be a rock 'n' roller nobody ever sees. To be anonymous." Did you see this desire for anonymity come out in his personality?
Yeah, absolutely. It's funny because when we were shooting in a tiny studio in New York, I said to Jane, "Does Keith want a another room for him or some place where he can get away?" And she said, "No, no. He wants to be in the mix with everybody." And it was a small studio and there was a little green room for everybody including our crew and the musicians and producers and engineers. There was one night where we had a pile of pizza and there was beer and soda. There was like 20 of us jammed inside this tiny room, everybody's eating and laughing. Keith's sitting on the couch with four people just as one of the guys. And I looked over at him and he was so happy. I think to be him and to be in a situation where he's not the center of attention, where he can just be one of the guys, it makes him really happy because he doesn't get that experience very often. He steps out on the street and he gets accosted. He's one of the most famous people around. That's got to be a burden, and for somebody who's not even the lead singer. I think his heroes are the side men. We talked about Scotty Moore and James Burton and Jimmy Johnson and those were guys like him, the guys behind Elvis or Otis Redding. 
What's the benefit of this doc being available on Netflix instead of in theaters?
Like I said, this film was such a fast, raw, instinctual rock and roll experience. To be able to just do it and then just have it out in the world like that, it kind of matches the pace of how we made the film. We didn't overthink anything with this film, hopefully, maybe under thunk it, but it was just trying to do something fast that captured an energy and throw it out there in the world. In a way Netflix was the perfect place for it because I don't have to do interviews about it for two years. It's a snapshot of a moment in time and it's great and we can share it with the world and go on to the next snapshot.
This interview has been edited and condensed.
"Keith Richards: Under the Influence" is now streaming on Netflix.
PHOTO GALLERY
25 Documentaries You Need To Watch On Netflix Now
Calling all HuffPost superfans!
Sign up for membership to become a founding member and help shape HuffPost's next chapter