An art gallery isn't the first place you might expect to run into an NFL player, but if you do spot a linebacker in Chelsea, chances are it's Keith Rivers.
Football happens to be Rivers's job, but it's not his only priority. The 27-year-old has a keen appreciation and love for contemporary artwork, an interest he first developed in college and has since expanded into building an art collection.
"As I got into the NFL, I started collecting," Rivers said in a recent phone interview with The Huffington Post. "It just kind of got contagious and now I have a crazy collecting disease."
Rivers stands at a robust 6-foot-2-inches and weighs over 240 lbs. As one of the premier college football players in the country during his tenure at the tradition-rich University of Southern California, he earned All-America honors in 2007 and was drafted ninth overall by the Cincinnati Bengals in 2008. Five years later, Rivers is starting fresh with the Giants, his second NFL team, where he's playing middle linebacker.
As an art collector, Rivers shows a distinct passion for young, emerging artists and a focus on the abstract. "You gotta find what you love first and foremost," he says.
Some of his favorite pieces in his collection include work from Lucien Smith, Joe Bradley and Zak Prekop. One of the latter's works was Rivers's first art purchase, a piece he found on his own.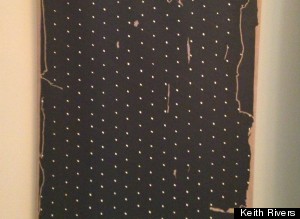 A Zak Prekop artwork that's one of Rivers's favorites.
Rivers doesn't buy art with the intention of turning a profit, but rather with the hopes of building a meaningful collection. He's also well aware that most of his peers don't really grasp what he's doing. That's OK with him.
"Some guys -- you might show them a piece of art -- and they're like, 'I don't see it.' And that's perfectly fine," Rivers says. "I don't think a lot of people, when they first start getting into art, they don't really understand why a Picasso is priceless. You start to look into art history and you start to understand."
Understanding the art has been a process for Rivers as well, and has meant expanding his horizons beyond the lines of the gridiron.
"I've never been a guy who always hung around football players," Rivers says. "You're fortunate enough to be able to hang out in circles you normally wouldn't with being a professional football player, and so I've kind of branched toward hanging out with people who don't do what I do."
Branching out means spending coveted off-days during the season at museums, or attending new shows and galleries throughout Manhattan. He's even considered going back to school for a master's degree, though has since thought the better of it.
"I think sometimes with things you love to do, you try to monetize it and it becomes less pleasurable," Rivers says. "So I probably wouldn't do [this professionally]. ... I think for me, one of my goals as a collector is to have one of the better collections in LA [which he calls home]. ... That's kind of one of my goals as a young collector, to one day build a great reputation."
Email me at jordan.schultz@huffingtonpost.com or ask me questions about anything sports-related at @Schultz_Report. Also, be sure and catch my NBC Sports Radio show, Kup and Schultz, which airs Sunday mornings from 9-12 ET, right here.
Popular in the Community