CHARLOTTE, N.C. ― North Carolina Attorney General Roy Cooper called on the Charlotte Mecklenburg Police Department to release the videos showing Keith Lamont Scott being shot by police earlier in the week. 
"We must continue in the pursuit of the truth while also continuing the important work of bringing our communities and law enforcement together to build trust and safety for all," Cooper wrote in a Facebook post on Friday. "One step toward meeting both goals is for the videos in this case to be released to the public."
Soon after, Democratic presidential nominee Hillary Clinton tweeted a call for the video's release. The tweet was signed "-H," meaning Clinton wrote it personally.
Scott, 43, was shot and killed on Tuesday. Police claim Scott exited his vehicle with a handgun and did not follow orders to drop his weapon. Witnesses, including a woman who identified herself as Scott's daughter, said Scott was unarmed and holding a book when he was shot.
Cell phone video recorded by Scott's wife, Rakeyia Scott, and obtained by NBC News shows the moments leading up to and following his death (the shooting itself is not shown). Rakeyia Scott can be heard in the video saying that her husband is unarmed. 
Many community members have demanded that police videos of the shooting, recorded by body cameras worn by some officers on the scene, be publicly released. Charlotte Police Chief Kerr Putney said on Thursday that it was in the best interest of Scott's family to keep the video private. 
Members of Scott's family were allowed to see the video on Thursday. Justin Bamberg, a lawyer for the family, said Scott exited his vehicle calmly and his "hands were by his side and he was slowly walking backwards" when he was shot. 
"It is impossible to discern from the videos what, if anything, Mr. Scott is holding in his hands," Bamberg said.
City officials who have seen the video also said it is unclear what Scott was holding.
"I was able to view that video today. I am in agreement with the Chief and with the family of Mr Scott: It is not clear," Charlotte Mayor Jennifer Roberts told CNN on Thursday.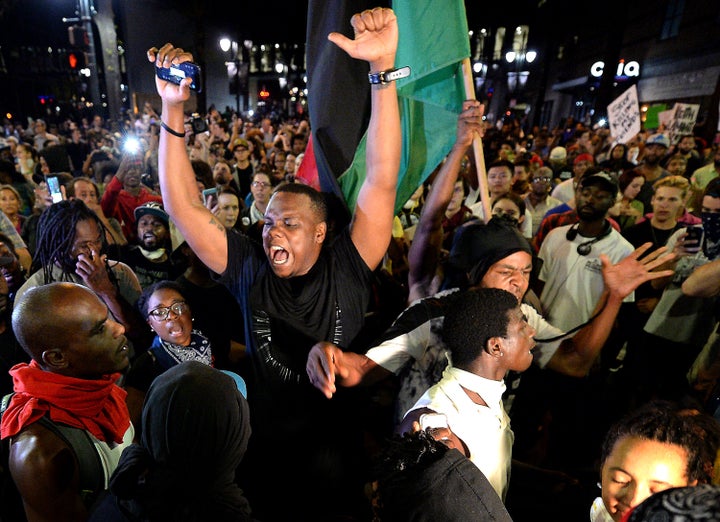 Scott's death sparked large-scale, sometimes violent, protests throughout the city. 
Thursday night's protests were large, but incredibly calm. Protesters shouted "Release the video!" during the march and the only tense moment happened when protesters briefly blocked off Interstate 277.
Police in riot gear, banging their shields with batons, walked toward protesters while instructing them to move back. 
Some protesters ran up a hill underneath a bridge while police dispensed what appeared to be pepper spray. 
The Huffington Post captured that moment in a video, which contains explicit language.
The mayor ordered a midnight curfew on Thursday night, but officials said they would not enforce it as long as the protests remained peaceful. 
At least 31 people were arrested for failure to disperse, according to The Charlotte Observer. Six protesters were taken into custody on breaking and entering charges. Six others were taken in on charges including larceny, assault on a government official, disorderly conduct and resisting an officer. 
This article has been updated to include Clinton's tweet.
Calling all HuffPost superfans!
Sign up for membership to become a founding member and help shape HuffPost's next chapter