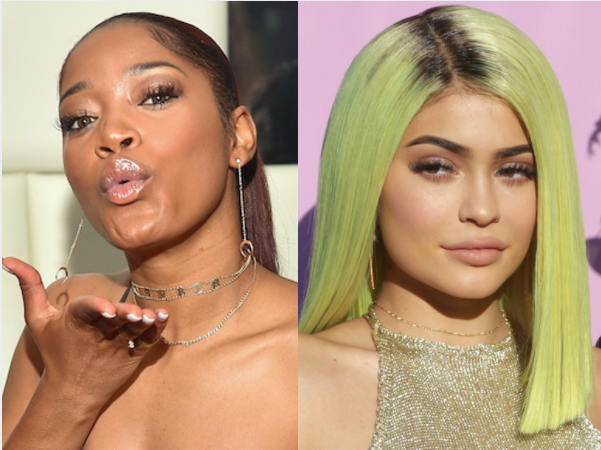 Not only is Keke Palmer not buying Kylie Jenner's social media glow up, but she's also returning to sender and canceling her subscription. 
The "Scream Queens" star didn't hold back any punches when it came to the reality TV star during an interview about staying true to yourself with Yahoo Beauty on Wednesday. Although she admits it's "absolutely so hard" in the age of social media to be authentic online, Palmer sees Jenner as part of the problem she's trying to fix. 
"So often people feel like, you know what, I'm just going to beat them to the punch and either degrade myself or be so damn perfect they have nothing to say. We've seen extremes of that," Palmer explained. "In the sense of the Kardashians, it's like, I'm going to show you so much perfect and be everything a woman should be or everything a man would like or love," Palmer explained. 
"Specifically in the situation with Kylie, where you've had a young girl people have seen on television since she was a kid and they literally told her she was so ugly … the ugly person in the family," she continued. "She went and did apparently everything the world deems as beautiful. The even crazier part is that everybody loves her for it."
In case you need a primer, the youngest KarJenner offspring has made quite the transformation in the last few years from awkward pre-teen to a social media phenomenon with more than 96 million Instagram followers. The 19-year-old has admitted to getting lip injections to plump her now world-famous pout, but has adamantly denied undergoing plastic surgery.
Palmer, on the other hand, prides herself on keeping it 100 on social media. The "Bottoms Up" singer regularly posts no-makeup selfies online and has candidly spoken about the various pressures young women, especially young women of color, face being in the spotlight. 
"What I find interesting is that this is something that is being displayed to my generation — showing young girls, young guys that if you do everything that society wants you to be, not only will you be praised for it, but you will make money for it," Palmer added. "You can be profitable for not being who you truly are."
That's why the singer says she doesn't conceal her struggles with "sadness, happiness, depression, anger, boredom." In fact, she went there and then some in her memoir I Don't Belong To You released earlier this year about her rollercoaster ride to fame. 
"I feel really grateful to be in the industry for as long as I've been, Palmer said, to have people who have been with me this long in my career and stand on a platform and say, "It's all a gag!"
Calling all HuffPost superfans!
Sign up for membership to become a founding member and help shape HuffPost's next chapter
BEFORE YOU GO
PHOTO GALLERY
Kendall and Kylie Jenner