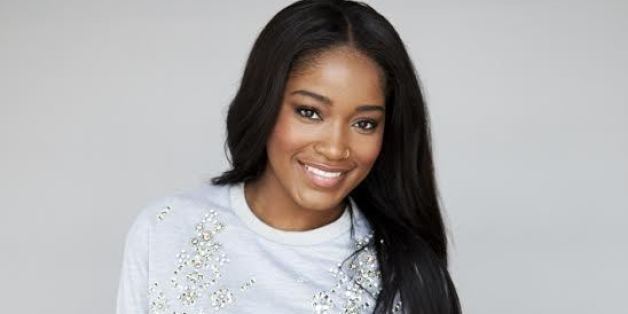 As she prepares for her historical role as the first African-American to play Cinderella on Broadway beginning Sept. 9, Keke Palmer has also expressed her thoughts on the outrage stemming from the killing of Michael Brown in Ferguson, Missouri.
Earlier this week, the 21-year-old actress-singer took to her Twitter and Instagram account posting a string of comments urging for unity and nonviolence during the outbreaks of national protests for Brown. And though Palmer's inspirational messages were intended to uplift her followers, some slammed her thoughts as naïve.
"Being naïve is never anything to be ashamed of, because I believe me being naïve is what has allowed me to do all the things that I can because if I believe in and quote what's realistic then I wouldn't be doing what I'm doing right now," Palmer admitted Thursday during an interview with The Huffington Post. "I simply wouldn't be 'Cinderella' on Broadway, I wouldn't have 'Just KeKe,'"
"I wouldn't have done any of the things that I've done. So I think that's a play on people's ideas of what they can't do and what they believe is possible. And for me, I believe everything is possible. That's the way that I was raised, and from what I've been able to do I've seen that to be true that your reality is what you make it."
The star also shared her thoughts on the Michael Brown incident and why she chose to speak up.
"As far as what's going on with Mike Brown, I spoke up on that, because unproductive outrage has never gotten us anywhere," she continued. "Even with MLK and everything that he did for black people...all he spoke about was unity, because throwing hate and being angry, and violence, that doesn't give us peace and equality. That's like having sex in order to get your virginity. It's just the complete opposite thing to do."
"I don't have all the answers and there are no quick fixes for things like this. But uniting and coming together on one clear message and trying to get that message across is much better than us all being everywhere and fighting against one another and coming from all different sides. That's never going to get us anywhere."
After defending her thoughts against the hailstorm of criticism, Palmer also encouraged her followers on Instagram to "take it to the streets" and "off Twitter" if they really want to contribute to positive change. All of which has prompted the Illinois-native to visit Ferguson this weekend.
"I'm very excited to see what can be done and if I can really get involved, and how we can unite one another," she said during the interview. "That's what I always believe is the way to go. Uniting us all. Not just black people, but everybody that's coming to talk the same message. It's unfortunate when things like this happen, but hopefully it can wake people's eyes up and let them know that we need to unite as a people."
"No one person can do anything. So, going further into my statement of 'taking it to the streets,' if you feel strongly, organize things that can best execute your message. That's what I mean by that. Being angry and outraged freezes train of thought. We all have to take a breath outside of our pain and figure out a way to be heard. Everybody, anybody, can make a difference if they try."

REAL LIFE. REAL NEWS. REAL VOICES.
Help us tell more of the stories that matter from voices that too often remain unheard.
BEFORE YOU GO