Kelli Garner is the latest actress to take on the role of Marilyn Monroe, and playing the screen legend taught her a thing or two about embracing her curves.
"I'm tinier than Marilyn was, but I still have some curves that I didn't know what to do with," Garner said when talking to Yahoo! Style about her role in Lifetime's "The Secret Life of Marilyn Monroe." She worked with costume designer Gersha Phillips, who taught her about high-waisted pedal pushers and clothing that accentuates her neck. "Now that I've come back home from shooting, I've realized my closet is a shame. I need a complete overhaul."
Embodying the 1950s bombshell made Garner rethink contemporary beauty standards.
"I was afraid to be too skinny, because they were filming for that kind of 1940s/'50s figure. I was trying to stay soft to get that body type," she said. "I would see Marilyn in a little bathing suit or jeans, and she would be laughing and she'd have a full belly coming over her jeans, which is so beautiful. If that is something that happened to me, Kelli, I'd be mortified. With our standards of beauty now, it's like, 'Oh you can't have those rolls there.' But I think Marilyn is one of the most stunning women who has every been around, and she was never in perfect shape."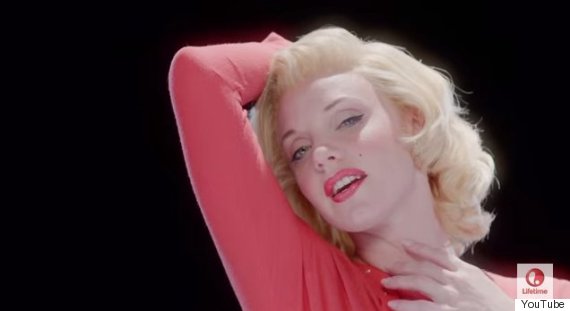 The two-night miniseries, which premieres May 30, covers Monroe's life from 15 years old to 36, when she died. It explores her relationship with her mother, who was diagnosed with schizophrenia.
"[Monroe] lied about it; I think she told lots of weird different little stories," Garner told The Hollywood Reporter. "Mental health is still stigmatized, but back then, even [more]. I didn't know she spent a lot of her time with doctors, therapists. I didn't realize the fortitude she had. I didn't realize the great work ethic she had. She's a fighter, hard worker. She's a perfectionist — I think I share that with her. I didn't know how hard-core of a perfectionist she was until I started reading about it."
Calling all HuffPost superfans!
Sign up for membership to become a founding member and help shape HuffPost's next chapter
BEFORE YOU GO
PHOTO GALLERY
Amazing Vintage Photos Of Marilyn Monroe