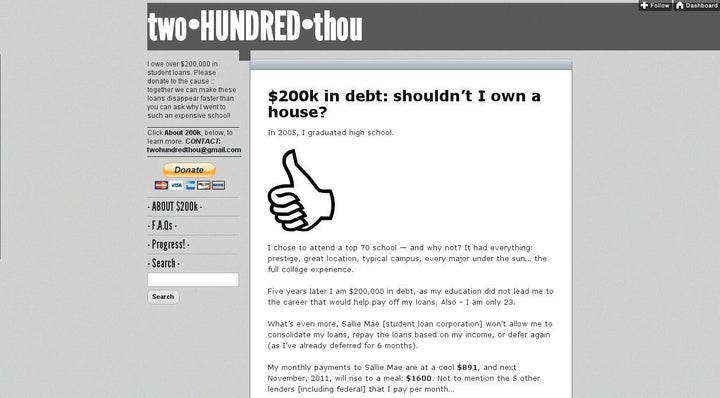 Currently, Northeastern alum Kelli Space, 23, is $200,000 in debt because of her student loans. She must pay federal student loan agency Sallie Mae $891 per month -- and by next November, that figure will nearly double. And although she has a full-time job, she doesn't make nearly enough to pay off her massive debt. So she's is turning to the public for help.
Space started a website called Two Hundred Thou, which is devoted to telling her story and asking readers to chip in. On the site's FAQ page, Space explains her situation in earnest:
I was 18 and the first person in my family (including extended family!) to attend college. Therefore, not only was excitement consuming me, but my parents didn't exactly know how college would or wouldn't affect my salary in the future. We applied for scholarships during the summer but they heard -- as much as I did -- that cost of tuition should never keep you from attending a great school. So... we made the mistake of following such romantic advice. Cue regret.
The site will track Space's progress as she collects money from her readers -- so far, she's raised $.35, leaving $199,999.65 to go.
What do you think of Space's plan? Will you contribute? Let us know in the comments section.

Related
Popular in the Community