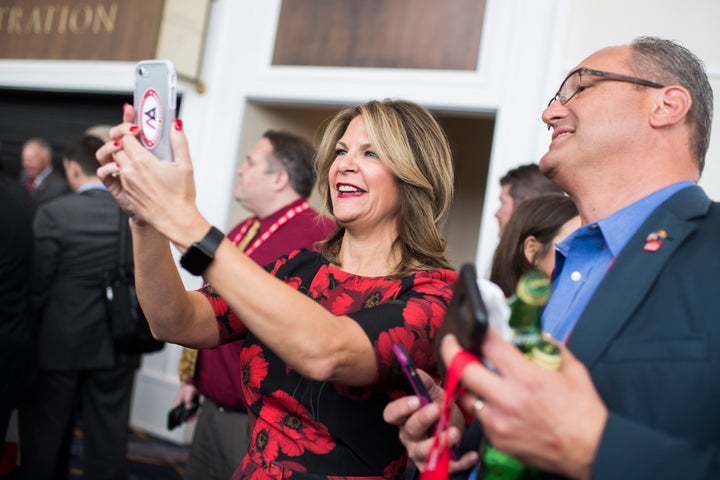 On Friday, Arizona former state Sen. Kelli Ward is set to continue a statewide tour before Tuesday's GOP primaries, running for the party's nomination to replace retiring U.S. Sen. Jeff Flake. The stops are fairly routine for a Republican primary: She's in Lake Havasu with some local politicians, at a car dealership in Kingman, then at a gun store in Paulden in the early afternoon.
Ward, whose campaign didn't respond to HuffPost's request for comment, last week told an NBC reporter that she needed a hook to draw the media's attention and said on MSNBC that Cernovich "has an audience that we want to reach."
Ward is expected to finish second in her primary, behind the establishment pick, Rep. Martha McSally, but ahead of former Maricopa County Sheriff Joe Arpaio. National Republican strategists have long maintained that McSally is the only Republican candidate who can defeat Democratic Rep. Kyrsten Sinema in November, in part because of Ward's willingness to associate with far-right figures.
With McSally in the lead, Ward and Arpaio are fighting over right-leaning voters, which some have suggested explains her decision to campaign with Cernovich. (The Weekly Standard dubbed it an effort to "consolidate the kook vote.")
But associating with right-wing media figures who promote conspiracy theories isn't anything new for Ward, a HuffPost review of her two runs for Senate shows.
Milo Yiannopoulos
During her bid to unseat Sen. John McCain (R) in 2016, she met Milo Yiannopoulos — an "alt-right" leader who had been banned from Twitter for directing his followers to bombard Leslie Jones of "Saturday Night Live" with racist and sexist invective — in Cleveland during the Republican National Convention. She posted a photo of the two of them together on Facebook, accompanied by the hashtag #FreeMilo.
Yiannopoulos later resigned from his post at Breitbart News after video surfaced in which he defended pedophilia. By that point, his reputation for mocking Muslims, transgender people and the Black Lives Matter movement was well documented.
Paul Nehlen
This June, Ward disavowed Breitbart-promoted Wisconsin GOP congressional candidate Paul Nehlen, who embraced anti-Semitism. (Nehlen lost a challenge to House Speaker Paul Ryan for his seat in 2016 and, after Ryan announced he would not run for re-election in 2018, drew just 10 percent of the vote in the GOP primary to replace him.)
At the time, she claimed that Nehlen turned extreme long after the time that she knew him.
"Paul Nehlen and I both ran against powerful establishment incumbents in 2016, so our paths crossed a few times in that regard," Ward told CNN. "However, recent views espoused by Nehlen are outrageous and antithetical to my own. Nehlen and other fringe elements who hold similar views have absolutely no place in the Republican Party."
But when Ward was still openly associating with him, he had shared tweets defending an infamous and prolific anti-Semitic Twitter personality, Ricky Vaughn, and had suggested that former President Bill Clinton and former Secretary of State Hillary Clinton were murderers.
Nehlen, Yiannopoulos and Cernovich are the most famous right-wing media personalities Ward has teamed up with, and she has also appeared with two Arizona-based personalities with a history of racism and conspiracy-mongering.
Ron Boat
In mid-June, Ron Boat — a conservative columnist and radio show producer — posted a photo with Ward on Gab, a social network designed as an "alt-right" alternative to Facebook and Twitter.
"A great week," he wrote. "Trump in Singapore, I got out of FB jail and had lunch with an old friend Dr. Kelli Ward. She's running for the US Senate to replace Flake the FLAKE. She needs everyone's support in AZ as she'll make a great senator for AZ."
In a column he wrote not long after the 2012 election, in which President Barack Obama topped GOP nominee Mitt Romney, Boat bemoaned America's changing demographics.
"Through immigration and birth, there's more Hispanics and blacks (being Welsh American myself, African American is not a term I think is needed) and middle easterners than ever and in most cases they bring with them a mentally that is different," he wrote. "I'm not sure about you but I question that I want to live in a country run by minorities. Not because of the color of their skin, but because of their mindset and expectations that we will provide all…. and that's what's happening. Some have said we need to educate and change their thinking — well I'm not sure but I don't think you can legislate intelligence and morality."
In Facebook posts Boat repeatedly referred to Obama and other black politicians as "POSN," an abbreviation for "piece of shit" and a racist slur.
In a caption for a photo of then–Homeland Security Secretary Jeh Johnson, Boat wrote, "Another POSN, head of Homeland Security, AND HE DIDN'T EVEN KNOW WHO KATE STEINLY IS," apparently referring to Kate Steinle, who was killed in San Francisco in 2015 by an unauthorized immigrant. "Sorry, I'm sick of idiot, racist, socialist blacks running this country."
In December 2016 he posted a photo of Oprah Winfrey interviewing then–first lady Michelle Obama and wrote, "One black racist idiot mooch telling another black racist idiot about the realities of hope in America as they both live off the fruits of white people. Sicko ghetto freaks."
Debbie Aldrich
Ward has done three interviews with Debbie Aldrich, a conservative pundit who made a failed bid to fill the seat of retiring Rep. Jason Chaffetz (R-Utah) in a special election last year. On her Twitter feed, Aldrich falsely called Obama a Muslim and promoted the Pizzagate conspiracy theory. She blamed Obama and "all his anti-white hate mongers" for "inciting race riots," and said he gave "these #Black Thugs #BLM Carte Blanche to DESTROY AMERICA."
CORRECTION: A previous version of this story misstated the location of the gun store Ward is scheduled to visit as part of her statewide tour.
Support HuffPost
The Stakes Have Never Been Higher
Popular in the Community