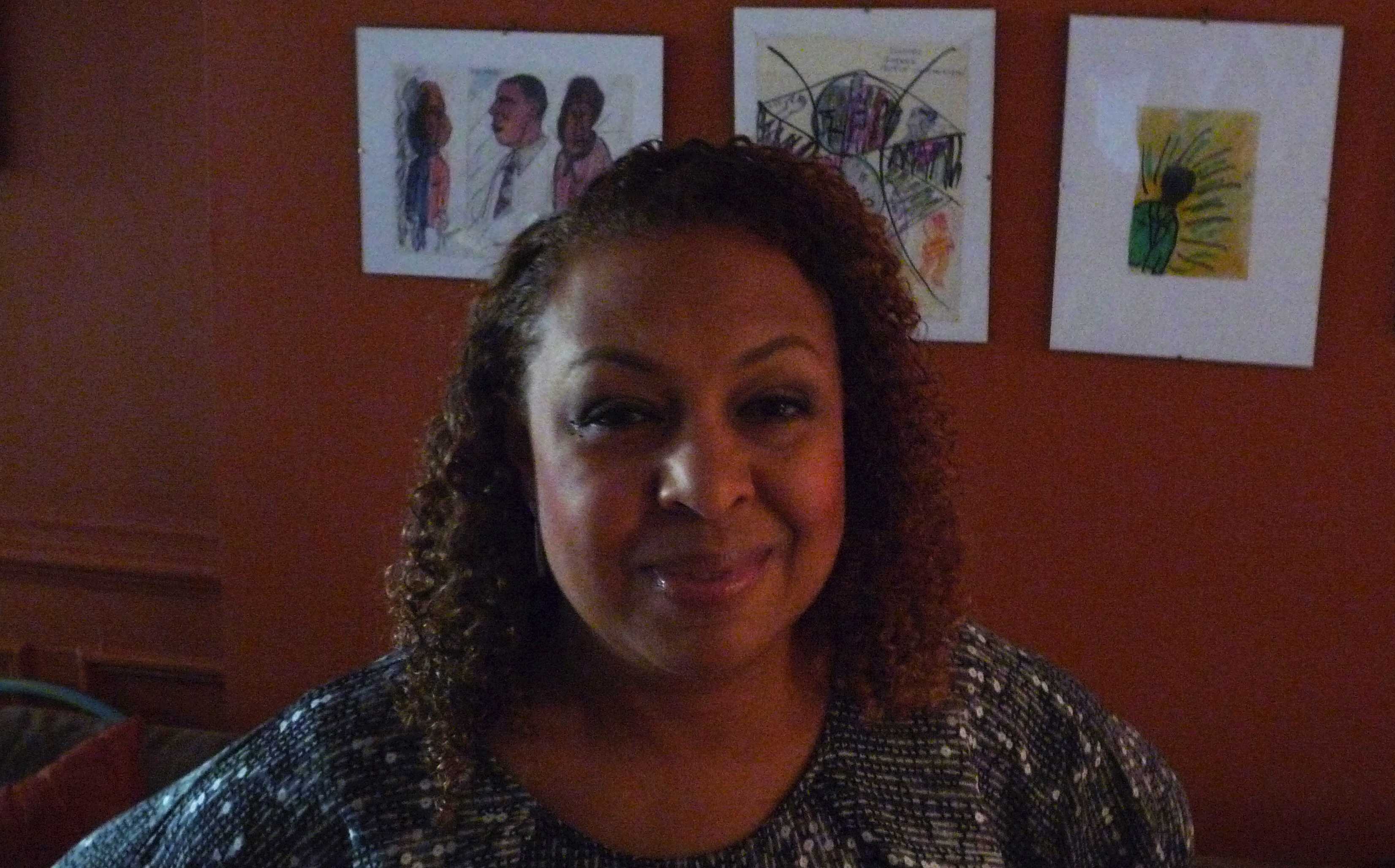 I recently visited an art exhibit chronicling the legacy of art in Black Los Angeles. The show is at the UCLA Hammer Museum and is called "Now Dig This! Art & Black Los Angeles 1960-1980." I sat down to speak with the curator of the exhibit. Kellie Jones is associate professor in the Department of Art History and Archaeology at Columbia University. Her writings have appeared in numerous exhibition catalogues and journals. Her critically acclaimed book EyeMinded: Living and Writing Contemporary Art (Duke University Press 2011) has been named one of the top art books of 2011 by Publishers Weekly. Her project "Taming the Freeway and Other Acts of Urban HIP-notism: African American Artists in Los Angeles in the 1960s and 1970s" is forthcoming from The MIT Press. Stay tuned for the rest of my interview with Kellie Jones tomorrow in my next post.
Your latest show is at the UCLA Hammer Museum, "Now Dig This! Art & Black Los Angeles 1960-1980." Talk to me about the conceptual background of this show.
Well, the show came about because I was doing research on a book on African-American artists in Los Angeles. I was in Los Angeles and I ran into a friend who happened to be the chief curator of the Hammer Museum at the time, Gary Garrels. He said, "What are you working on?" I told him I was working on this book about L.A. And he said, "Oh, are you planning to do a show?" I told him, "One day, in the future." Two weeks later, he calls me and he says, "How about now?" So it turned out, there was this great opportunity with the Getty Foundation, the Getty Research Institute. They were offering seed money over a two to three-year period to do research on aspects of Southern California art. And would I like to put a proposal together to do a show based on my own research? I was already scheduled to go to the Getty to do an oral history for them with some of these artists, who ended up being in the show and are also in my book. So I said, "Great! Let's get going on this!"
Several of the works that you highlight in "Now Dig This!" come from the storage rooms of some of the major museums of art in the United States. In what way is this exhibition a philosophical shift from the typical show we might see at a museum of art?
I don't think it's that far off the mark of typical shows. I think what's different is that people are kind of shocked about all these artists that we didn't know about. And they happen to be African-American. This type of research goes into shows, generally, at certain institutions. If you look at the Metropolitan Museum of Art, or the Museum of Modern Art, these shows are based on a lot of research. The only difference then is that the focus is on African-American artists and what they were making at the time and how their work elucidates that time period. It's just another way to frame history.
Now, in your show, you've placed some of these artists in relation to the development of art in the United States more generally. For example, you placed David Hammons and Maren Hassinger and others in conversation with the experiments in multimedia and post-minimalism. Do you think the artists in your show were rebelling against the Western aesthetic tradition?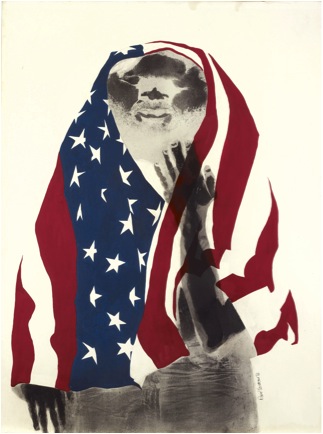 Yes and no. I mean, they're part of that tradition. They all went to art school, so they all have part of that. Minimalism was this kind of, more industrial, kind of cold, modernist thing. Generally in this kind of practice no sorts of extra meaning would come into the work outside the meaning of the materials themselves. But what post-minimalism did was that you could have materials that actually signified different things. So for David Hammons to use the greasy bag, for him, it meant places where people picked up chicken and the grease was running in the bag. And so, there you go. You know, for him, with hair, he thought he had found his perfect object. It was a black object. Yes, he thought this was a racial object. He used black hair, from black barbershops, and it was non-gendered. That's what he liked. So it didn't have to be about men or women. It could just be this black object. He also thought grease was a black object. Something that, you know, your mama tells you to grease your body up so you don't look ashy. So that these materials signified people's lives in history. For Senga Nengudi -- you didn't mention her, but she's also one of the people in that post-minimalist room -- she used pantyhose to talk about women's bodies. So we have a certain feminist idea. And then the sand. They're in L.A. You got a lot of sand at the beach. So you can get some sand. And that gave it a certain kind of volume, a certain kind of shape. Maren, now see Maren, she's interesting because she's using materials that are part of a minimalist canon -- that is steel, steel wire, rope -- but then she's making them into these kind of verdant forms. Of all the artists in the show, her work is not signifying something that would be "black," that would be considered "black art". But her performative practice does bring in African dance styles. They are working within a kind of canonical post-minimalism, but then at a certain point -- particularly Hammons -- they're bringing in things that are saying, this is about African-American life. This is about another side of life that you hadn't really considered, and that these kinds of materials allow us to think about.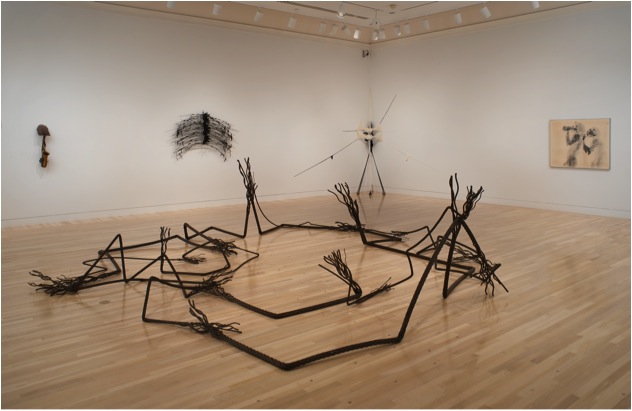 Part 2 of the interview to follow in my next post...
The photo of Kellie Jones (images in the back wall by Amiri Baraka) is included courtesy of Tukufu Zuberi; photo of David Hammons', America the Beautiful (1968) courtesy of the Hammer Museum; and the final photo Maren Hassinger's and David Hammons' works at the exhibition courtesy of the Hammer Museum.

REAL LIFE. REAL NEWS. REAL VOICES.
Help us tell more of the stories that matter from voices that too often remain unheard.