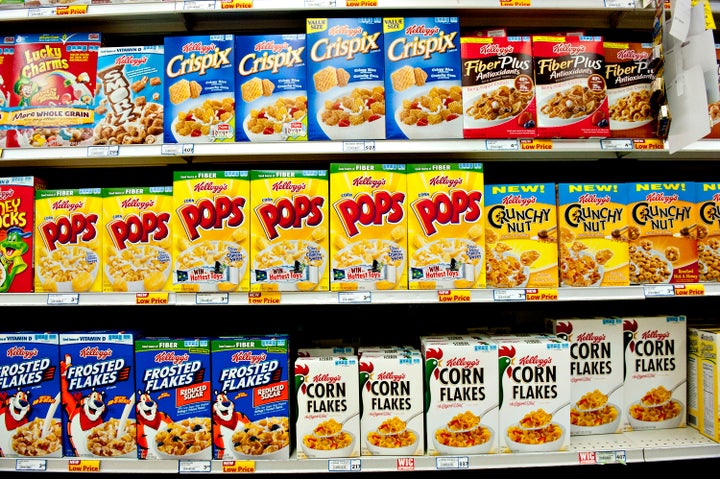 Kellogg is finally addressing its soggy record on tackling climate change.
The cereal giant on Tuesday announced plans to reduce its greenhouse gas emissions 65 percent by 2050, and to help its suppliers slash theirs 50 percent.
"Science shows that climate change will reduce food productivity and food security at the same time our world's population is growing and requiring us to feed more people with fewer natural resources," John Bryant, chairman and chief executive of Kellogg Company, said in a prepared statement.
The move comes a year after Kellogg, along with its chief rival General Mills, took heat for failing to curb their carbon emissions despite the acute risk climate change poses to food firms. In a briefing paper published in May 2014, Oxfam International lambasted the companies as "clear laggards" and "accomplices of climate change."
In August, General Mills -- whose brands include Cheerios, Yoplait, Häagen-Dazs and Green Giant -- vowed to slash greenhouse gas emissions across its supply chain by 28 percent over the next decade. Now Kellogg has followed suit.
The public announcement, timed to coincide with the second week of the COP21 climate talks in Paris, helps hold Kellogg accountable to its own goals and empowers employees that care about the company's carbon footprint.
"This provides a lot of cover for those in the company who want to do the right thing, especially on the sustainability side," Irit Tamir, a special adviser in Oxfam's private sector department, told The Huffington Post by phone. "Now they can make the case for those who have a harder time seeing beyond the bottom line."
Kellogg plans to improve efficiency in energy use and transportation and convert to low-carbon or renewable energy sources, according to a nine-page document the company released Tuesday.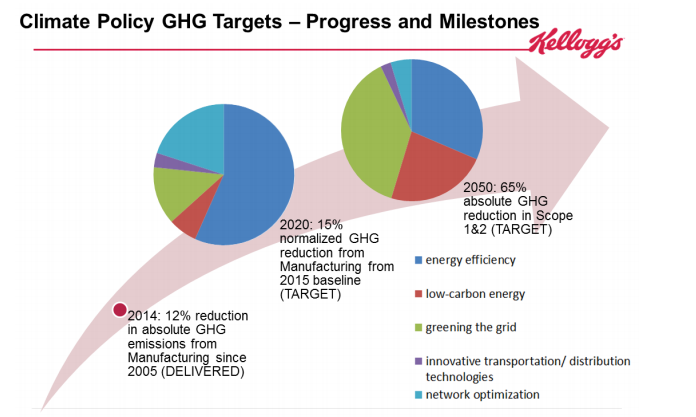 The cereal industry, whose sugary corn and wheat confections once dominated American breakfast tables, is struggling as people increasingly demand more healthful, protein-based meals. Kellogg may have it worse than most.
Kellogg still spends more than $1 billion a year on advertising, but it no longer has the same hold on breakfast. The sales of 19 of Kellogg's top 25 cereals eroded last year, according to Consumer Edge Research, a Stamford (Conn.) firm that tracks the food industry. Sales of Frosted Flakes, the company's No. 1 brand, fell 4.5 percent. Frosted Mini-Wheats declined by 5 percent. Meanwhile, Special K Red Berries, one of the company's breakout successes in the past decade, fell by 14 percent. Kellogg executives don't expect cereal sales to return to growth this year, though they hope to slow the rate of decline and do better in 2016. But some Wall Street analysts say cereal sales may never fully recover. In Battle Creek, so-called Cereal City, that would be the equivalent of the apocalypse.
Tamir told HuffPost that slumping sales could have been partly responsible for Kellogg's hesitation to act on climate change.
Kellogg said the targets announced Tuesday will help keep the earth's temperature from rising beyond the 2 degrees Celsius (3.6 degrees Fahrenheit) that scientists predict would catastrophically alter the climate. Oxfam hired sustainability consultant Andrew Winston to vet the plausibility of Kellogg's goals, Tamir said.
"We haven't analyzed the targets yet," Tamir said, "but they seem to be strong."
This story has been updated with Kellogg's methodology for cutting carbon emissions.