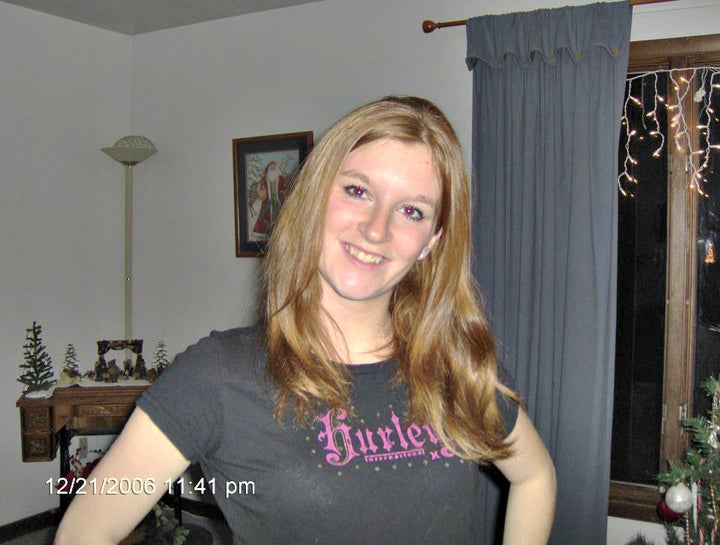 The relatives of Kelly Armstrong said they are being revictimized after prosecutors offered Armstrong's boyfriend, who police said confessed to her murder, a plea deal that recommends the couple's 2-year-old live with the man's relatives.
"They are using my sister's little boy as a pawn. He took her from us and now he is trying to take my nephew too," Armstrong's sister, Shelly Rush, told The Huffington Post.
"The prosecutor never told us what was in the plea agreement. We had to read it in the newspaper," added Armstrong's father, David Armstrong.
Kelly Armstrong, 28, disappeared in August 2011. She and 34-year-old Travis Funke lived together with their baby in Kokomo, about 50 miles north of Indianapolis. Rush said family members became concerned after not hearing from Armstrong without a clear explanation from Funke. Rush filed a missing person report on Sept. 26, 2011.
Funke was arrested two days later on an unrelated warrant for cutting off a house-arrest monitoring ankle bracelet he wore for operating a vehicle after a lifetime suspension, according to police. Authorities interviewed Funke about Armstrong Jan. 6. During the interview, he told investigators he killed Armstrong around July 1, 2011.
"[Funke] stated that he and Kelly had been fighting for three days ... Funke stated that he fell asleep on the couch and he awoke to Kelly hitting the couch with a hammer. Funke stated that he believes that Kelly hit him on the head with the hammer and knocked him out. Funke stated that, when he came to, Kelly was dead on the floor and bleeding from the head. Funke said that he has memories of hitting her in the head with a hammer but thought that it was a dream," the case affidavit reads.
According to the affidavit, Funke allegedly said he placed a plastic bag on Armstrong's head, wrapped her in a tarp and put her in a trash tote. The garbage container was supposedly picked up later that same day and the contents were dumped at Wabash Valley Landfill in Wabash. Authorities spent several days sifting through rubbish at the landfill but were unable to locate Armstrong's remains.
In February, Howard County prosecutor Mark McCann charged Funke with voluntary manslaughter.
As part of the proposed plea arrangement, Funke is required to give a "full, honest and truthful statement, under oath, to law enforcement" about the circumstances surrounding Armstrong's death. In return, prosecutors have offered to drop two lesser felony charges pending against Funke. A son he and Armstrong had together, who now has cancer, is also listed as an incentive.
"Although the defendant acknowledges and understands that the state of Indiana has no authority to bind the Department of Family and Children or the court presiding over the issue of the placement of defendant's minor child, the state of Indiana would agree to cooperate with DFC in an attempt to have the defendant's child placed with the defendant's family," the plea agreement recommends.
Contacted by HuffPost, McCann declined to comment on the recommendation.
Crime victim advocate Andy Kahan said that in roughly 20 years of working with crime victims he has never heard of a plea agreement with a child custody stipulation.
"This is highly unusual," Kahan told The Huffington Post. "It would behoove the district attorney's office to sit down with the Armstrong family in a private meeting and give them some answers. They deserve it. They are owed explanations as to what the plea deal involves. They should let the family know where they are coming from on this."
Seattle attorney and legal analyst Anne Bremner said she too finds the agreement unusual, especially considering the criminal court has jurisdiction only over the accused.
"It seems that the defendant wanted this as part of the plea bargain and the DA decided to include it, despite their lack of jurisdiction or authority," Bremner told HuffPost. "Clearly, Kelly's family should have been included or at least consulted. [The district attorney's office] has no power to do anything [about child custody] and shouldn't have."
Armstrong's family considers the proposed plea agreement a slap in the face. "They're just trying to sweep this away now," David Armstrong said. "They have a confession, so they just want a conviction so they can be done with the case."
Armstrong and Rush have long been critical of the investigation.
According to Armstrong, authorities did nothing when they went to his daughter's trailer the day after she was reported missing and found blood inside. He said they took no action on Oct. 7, 2011, when Funke's cellmate supposedly told police that Funke had admitted killing Armstrong and was "concerned about evidence that could still be in their trailer," according to the affidavit.
On Nov. 2, 2011, after Kokomo Police Department investigators interviewed another individual who allegedly said Funke admitted he killed Armstrong, police secured a search warrant for the trailer, the affidavit said.
It says detectives found the described green-handled hammer. Investigators also located "two large dark stains on the carpet in the south bedroom and two large dark stains on the carpet in the living room." The stains were collected and tested; police later revealed the stains were a 99.9 percent match for Armstrong's blood.
The district attorney's office and Kokomo police have repeatedly declined to discuss any aspect of the investigation with The Huffington Post.
Rush said she doubts Funke's version of when the murder occurred, and that she has phone records that show she spoke with her sister July 20, 22 and on Aug. 2. "I believe the prosecutor did what he had to do to get a confession because they messed up the investigation so bad that they needed the confession to get a conviction," Rush said.
It will ultimately be up to Howard Superior Court Judge Brant Parry to decide during a hearing on the plea agreement Aug. 7. Parry will hear from the prosecution, defendant and the victim's family.
Kelly Armstrong's mother, Teresa Edwards, already has prepared her victim impact statement. "I am outraged over this," Edwards said in the statement. "[My grandson] has leukemia and [is] fighting for his life. He is stuck in Child Protective Services and is supposed to go to one of Travis' family members. Is this justice?"
Per the terms of the proposed plea agreement, Funke would serve a term of 50 years, with 35 to be spent in prison, followed by 15 years' supervised probation.
"With good behavior, he could be out in 17 and a half years," David Armstrong said. "He gets a slap on the wrist and I don't get to recover my daughter's remains so I can give her a proper burial. It's not right. It's not justice."
PHOTO GALLERY
Kelly Armstrong
Calling all HuffPost superfans!
Sign up for membership to become a founding member and help shape HuffPost's next chapter
BEFORE YOU GO
PHOTO GALLERY
Missing People