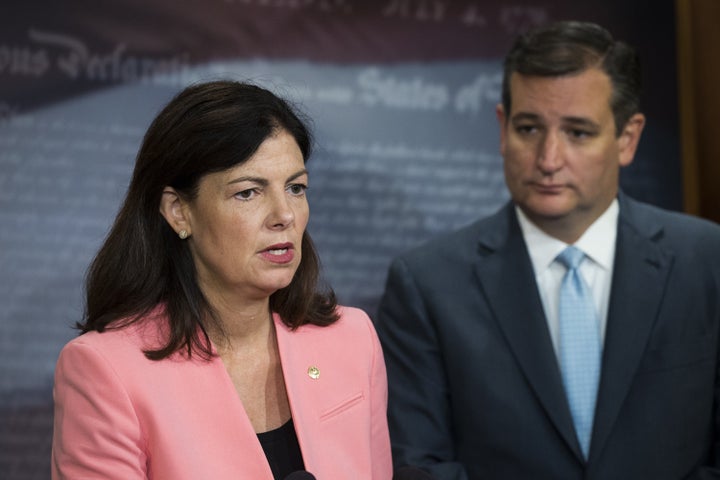 WASHINGTON ― As gross as Donald Trump's boasting about violating women was, a new ad argues that the revelation of his predatory predilections has revealed a deeper issue ― the craven political calculation of Republicans trying to navigate their own re-elections.
In this case, in a spot set to be released Friday, New Hampshire Gov. Maggie Hassan (D) targets her Senate race rival, Republican incumbent Kelly Ayotte.
For months, Ayotte took the difficult position of criticizing or being silent on Trump's comments against immigrants and Muslims, among other issues, while still supporting his presidential candidacy.
But with the emergence of video of Trump declaring he likes to kiss women and grab their genitals without their consent, Ayotte was among those Republicans who tried to put a little more distance between herself and her party's standard-bearer.
Hassan's campaign argues that Ayotte's conversion is too late and too convenient. In the new ad, they contend that her shift on Trump is emblematic of a deeper "political calculation."
"Months of degrading women and vulgar insults, and Kelly Ayotte supported Donald Trump through all of it, even calling him a role model," the ad's narrator says, referring to comments the senator made, and then retracted, about Trump "absolutely" being a model for kids.
"Now Ayotte suddenly claims the opposite. A political calculation just to re-elect herself," the ad says.
It goes on to allege that Ayotte makes similar calculations in other areas.
"From voting with the Koch brothers nearly 90 percent of the time in her first four years in office, to her political maneuvering on Donald Trump, Kelly Ayotte has spent her Washington career looking out for her own political interests while the people and small businesses of New Hampshire paid the price," said Hassan spokeswoman Meira Bernstein in a statement. 
"Granite Staters know they can't trust Ayotte to do what's right for them if it doesn't fit into her political strategy, and voters across the political spectrum will see right through Ayotte's finger-to-the-wind efforts to save her own seat," Bernstein added.
Every Democratic campaign these days is attempting to tie its opponent to Trump. But Hassan's team is trying to go a step further and argue that the reason a Republican's positioning is so tortured on Trump is that more broadly their political positions are more important to them than the underlying realities or policies.
The New Hampshire Senate contest is one of the tightest in the nation.
The Ayotte campaign responded later Friday by touting its senator's work across the aisle and by accusing Hassan's squad of essentially cribbing their new attack from the Democratic Party brain trust in Washington:
Kelly is ranked as one of the most bipartisan senators because she has a strong record of working across the aisle to do what's right for New Hampshire ― including passing legislation to address the heroin epidemic, protecting our environment, and helping lead an end to the government shutdown. By repeating mind-numbing, recycled attacks from her Washington party bosses, Governor Hassan has refused to run a race based on the issues that are important to New Hampshire and it's becoming increasingly clear that her strategy has failed.
This story has been updated with a response from the Ayotte campaign.
REAL LIFE. REAL NEWS. REAL VOICES.
Help us tell more of the stories that matter from voices that too often remain unheard.