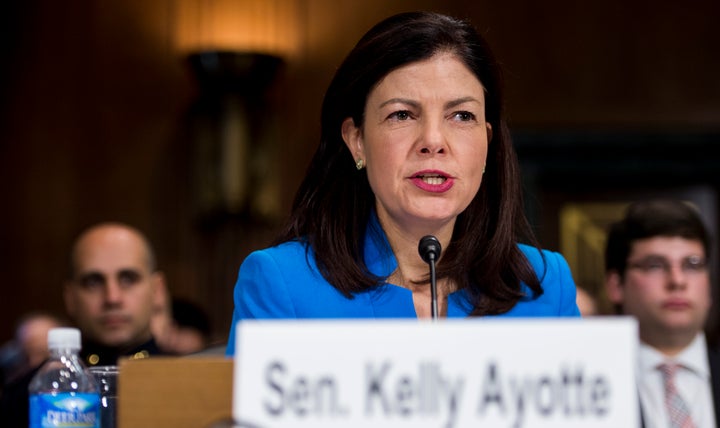 Conservative activist Aaron Day has decided not to challenge Sen. Kelly Ayotte (R-N.H.) in a third-party bid, instead backing her primary challenger. But he is still promising to back an independent candidate if Ayotte makes it to the general election, which could take votes away from her and help Democrats. 
In November, Day, who chairs the Republican Liberty Caucus in New Hampshire, had vowed to jump in against Ayotte if the state legislature voted to expand Medicaid.
"Republicans were set to return a conservative, who opposed Medicaid expansion, to the Speaker's chair until Ayotte interfered," Day told Breitbart last year. "She and the GOP establishment think Medicaid expansion will help them politically. They should understand that such an action will doom them politically."
Ayotte has repeatedly voted to repeal Obamacare, but largely stayed out of the Medicaid expansion fight in her state. She said she didn't want government to "pull the rug out" from under low-income people who have received insurance.
Day told The Huffington Post that rather than jumping into the race himself, he is supporting Jim Rubens, a former state senator whose campaign has become an outlet for conservative frustrations against Ayotte. 
"Republicans have got to come to grips with the fact that, if Kelly Ayotte is the nominee, base and anti-establishment voters will boycott or vote for an independent. I'm running to bring our party back together and save this Senate seat for Republicans," Rubens said when announcing his candidacy on March 7. 
Day added that even if Rubens loses, he still won't back Ayotte. 
"If he doesn't win, I will support Andrew Hemingway as an independent in the general election. I have a whole slate of independents for whom we have collected the necessary signatures to get on the ballot," he told HuffPost.
Hemingway, a former New Hampshire gubernatorial candidate, has not yet officially entered the Senate race. 
Jon Kohan, Ayotte's campaign manager, recently told the New Hampshire Union Leader that the senator is happy to face off against anyone. 
"Kelly's deep grassroots support is backed by a town-by-town network of activists across the state," Kohan said. "She has a strong conservative record of delivering results for New Hampshire and she will continue to carry that message to every corner of the state in the months to come."
The New Hampshire primary is on Sept. 13. Ayotte is considered one of the most vulnerable Republican senators up for re-election this year, and if she survives her primary, polls show her in a tight race against Hassan. Ayotte's chances could be further hurt if conservative voters back a third-party candidate instead of turning out for her. 
"Frustration with Kelly Ayotte's record of putting special interests ahead of the people of New Hampshire clearly runs deep and across the ideological spectrum in the Granite State," said Melissa Miller, spokeswoman for the New Hampshire Democratic Party. "Not only does she have to contend with a primary opponent, but she also has a potential conservative third-party challenger creating turbulence for her uphill reelection bid."
This piece has been updated with comment from Miller. 
Calling all HuffPost superfans!
Sign up for membership to become a founding member and help shape HuffPost's next chapter
BEFORE YOU GO
PHOTO GALLERY
Women In The U.S. Senate